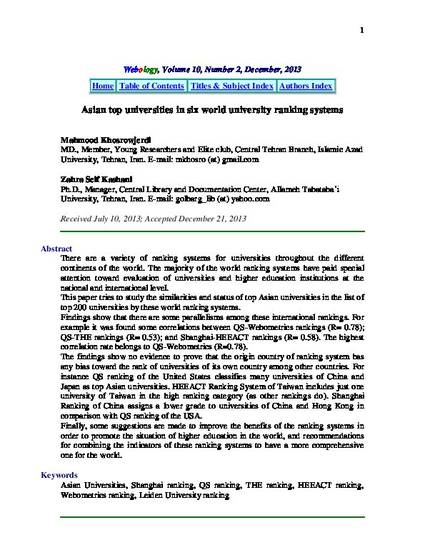 Article
Asian top universities in six world university rankings
Webology (2013)
Abstract
There are a variety of ranking systems for universities throughout the different continents of the world. The majority of the world ranking systems have paid special attention toward evaluation of universities and higher education institutions at the national and international level. This paper tries to study the similarities and status of top Asian universities in the list of top 200 universities by these world ranking systems. Findings show that there are some parallelisms among these international rankings. For example it was found some correlations between QS-Webometrics rankings (R= 0.78); QS-THE rankings (R= 0.53); and Shanghai-HEEACT rankings (R= 0.58). The highest correlation rate belongs to QS-Webometrics (R=0.78). The findings show no evidence to prove that the origin country of ranking system has any bias toward the rank of universities of its own country among other countries. For instance QS ranking of the United States classifies many universities of China and Japan as top Asian universities. HEEACT Ranking System of Taiwan includes just one university of Taiwan in the high ranking category (as other rankings do). Shanghai Ranking of China assigns a lower grade to universities of China and Hong Kong in comparison with QS ranking of the USA. Finally, some suggestions are made to improve the benefits of the ranking systems in order to promote the situation of higher education in the world, and recommendations for combining the indicators of these ranking systems to have a more comprehensive one for the world.
Keywords
Higher Education,
Asia,
Universities,
Ranking
Citation Information
Mahmood Khosrowjerdi. "Asian top universities in six world university rankings"
Webology
Vol. 10 Iss. 2 (2013)
Available at: http://works.bepress.com/khosrowjerdi/1/