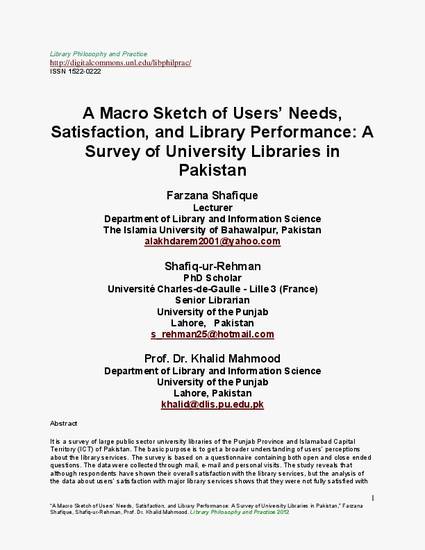 Other
A Macro Sketch of Users' Needs, Satisfaction, and Library Performance: A Survey of University Libraries in Pakistan
Library Philosophy and Practice (e-journal)
Abstract
This is a survey of large public sector university libraries of the Punjab Province and Islamabad Capital Territory (ICT) of Pakistan. The basic purpose is to get a broader understanding of users' perceptions about the library services. The survey is based on a questionnaire containing both open and close ended questions. The data were collected through mail, e-mail and personal visits. The study reveals that although respondents have shown their overall satisfaction with the library services, but the analysis of the data about users' satisfaction with major library services shows that they were not fully satisfied with their respective library services. The library users have also highlighted many problems, which they believed should be corrected. Findings of the study can be helpful for the library authorities and professionals for revisiting their library services and sources. Keywords: Pakistan, Library and Informational Services, Punjab and ICT, University Libraries, Library Users' Satisfaction.
Citation Information
Farzana Shafique, Shafiq Ur Rehman and Khalid Mahmood. "A Macro Sketch of Users' Needs, Satisfaction, and Library Performance: A Survey of University Libraries in Pakistan"
Available at: http://works.bepress.com/khalid_mahmood/7/