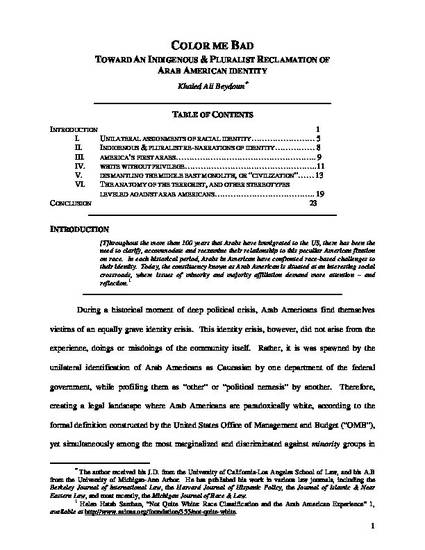 Unpublished Paper
Color Me Bad: An Indigenous & Pluralist Reclamation of Arab American Identity
ExpressO (2008)
Abstract
The piece titled, "Color Me Bad: Toward an Indigenous Reclamation of Arab American Identity," addresses the unilateral and conflicting ethnic designations imposed on Arab Americans. Post-9/11 legislation and institutional reshuffling, and the ultimately foundation of the Dept. of Homeland Security, led to the categorical profiling of Arab Americans as political menace, subversives, or to quote Edward Said, society's "other." However, the formal designation constructed by the Office of Business & Management (which informs the Census and other statistical data) classifies Arab Americans as "Caucasian," which runs contrary to the sociopolitical treatment of this community on the ground.
Publication Date
March 18, 2008
Citation Information
Khaled A Beydoun. "Color Me Bad: An Indigenous & Pluralist Reclamation of Arab American Identity"
ExpressO
(2008)
Available at: http://works.bepress.com/khaled_beydoun/1/