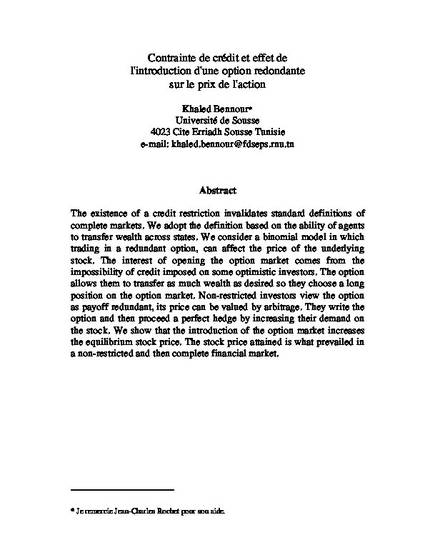 Article
Contrainte de crédit et effet de l'introduction d'une option redondante sur le prix de l'action
Revue des Sciences Juridiques, Economiques et de Gestion de Sousse (2004)
Abstract
The existence of a credit restriction invalidates standard definitions of complete markets. We adopt the definition based on the ability of agents to transfer wealth across states. We consider a binomial model in which trading in a redundant option, can affect the price of the underlying stock. The interest of opening the option market comes from the impossibility of credit imposed on some optimistic investors. The option allows them to transfer as much wealth as desired so they choose a long position on the option market. Non-restricted investors view the option as payoff redundant, its price can be valued by arbitrage. They write the option and then proceed a perfect hedge by increasing their demand on the stock. We show that the introduction of the option market increases the equilibrium stock price. The stock price attained is what prevailed in a non-restricted and then complete financial market.
Citation Information
Khaled Bennour. "Contrainte de crédit et effet de l'introduction d'une option redondante sur le prix de l'action"
Revue des Sciences Juridiques, Economiques et de Gestion de Sousse
(2004)
Available at: http://works.bepress.com/khaled_bennour/1/