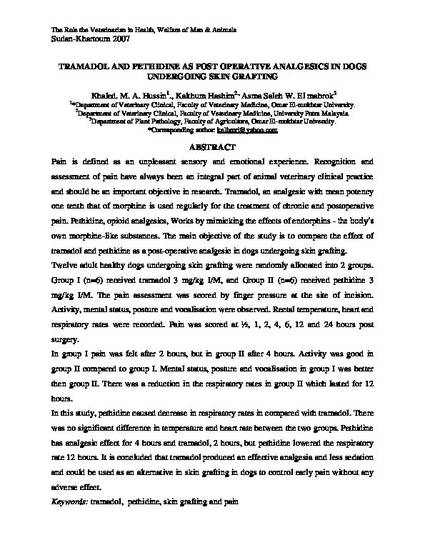 Presentation
Tramadol and Pethidine as Post Operative Analgesics in Dogs Undergoing Skin Grafting
The Role the Veterinarian in Health, Welfare of Man & Animals (2007)
Abstract
Pain is defined as an unpleasant sensory and emotional experience. Recognition and assessment of pain have always been an integral part of animal veterinary clinical practice and should be an important objective in research. Tramadol, an analgesic with mean potency one tenth that of morphine is used regularly for the treatment of chronic and postoperative pain. Pethidine, opioid analgesics, Works by mimicking the effects of endorphins - the body's own morphine-like substances. The main objective of the study is to compare the effect of tramadol and pethidine as a post-operative analgesic in dogs undergoing skin grafting. Twelve adult healthy dogs undergoing skin grafting were randomly allocated into 2 groups. Group I (n=6) received tramadol 3 mg/kg I/M, and Group II (n=6) received pethidine 3 mg/kg I/M. The pain assessment was scored by finger pressure at the site of incision. Activity, mental status, posture and vocalisation were observed. Rectal temperature, heart and respiratory rates were recorded. Pain was scored at ½, 1, 2, 4, 6, 12 and 24 hours post surgery. In group I pain was felt after 2 hours, but in group II after 4 hours. Activity was good in group II compared to group I. Mental status, posture and vocalisation in group I was better then group II. There was a reduction in the respiratory rates in group II which lasted for 12 hours. In this study, pethidine caused decrease in respiratory rates in compared with tramadol. There was no significant difference in temperature and heart rate between the two groups. Pethidine has analgesic effect for 4 hours and tramadol, 2 hours, but pethidine lowered the respiratory rate 12 hours. It is concluded that tramadol produced an effective analgesia and less sedation and could be used as an alternative in skin grafting in dogs to control early pain without any adverse effect.
Keywords
tramadol,
pethidine,
skin grafting and pain
Publication Date
Winter September 13, 2007
Citation Information
Khaled M.A Hussin. "Tramadol and Pethidine as Post Operative Analgesics in Dogs Undergoing Skin Grafting"
The Role the Veterinarian in Health, Welfare of Man & Animals
(2007)
Available at: http://works.bepress.com/khaled/6/