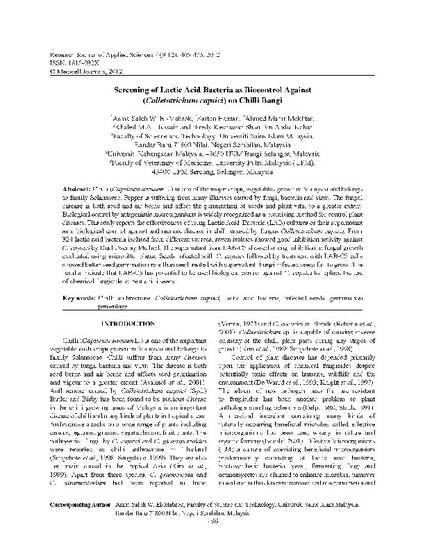 Article
Screening of Lactic Acid Bacteria as Biocontrol Against (Colletotrichum capsici) on Chilli Bangi
Research Joumal of Applied Sciences (2012)
Abstract
Abstract: Chilli (Capsicum annuum L.) is one of the major crops, vegetables grown in Malaysia and belongs to family Solanaceae. Pepper is suffering from many illnesses caused by fungi, bacteria and virus. The fungal disease is both seed and air borne and affect the germination of seeds and plant vital to a greater extent. Biological control by antagonistic microorganisms is widely recognized as a promising method for control plant diseases. This study reports the effectiveness of using Lactic Acid Bacteria (LAB) cultures or their supernatant as a biological control against anthracnose disease in chilli caused by fungus Colletotrichum capsid. From 324 lactic acid bacteria isolated from different sources, seven isolates showed good inhibition activity against C. capsici by Dual Overlay Method. The supernatant from LAB-C5 showed strong inhibition to fungal growth evaluated using microtitter plates. Seeds infected with C. capsid followed by treatment with LAB-C5 cells showed better seed germination rate than seed treated with supernatant. Fungi infected seeds fail to grow. The results indicate that LAB-C5 has potential to be used biological control against C. capsici to replace the use of chemical fungicide to treat chilli seeds.
Keywords
Chilli anthracnose,
Colletotrichum capsid,
lactic acid bacteria,
infected seeds,
germination percentage
Publication Date
Summer September 15, 2012
Citation Information
Asma Saleh Elmabrok and Khaled M.A Hussin. "Screening of Lactic Acid Bacteria as Biocontrol Against (Colletotrichum capsici) on Chilli Bangi"
Research Joumal of Applied Sciences
Vol. 7 Iss. (9-12) (2012)
Available at: http://works.bepress.com/khaled/4/