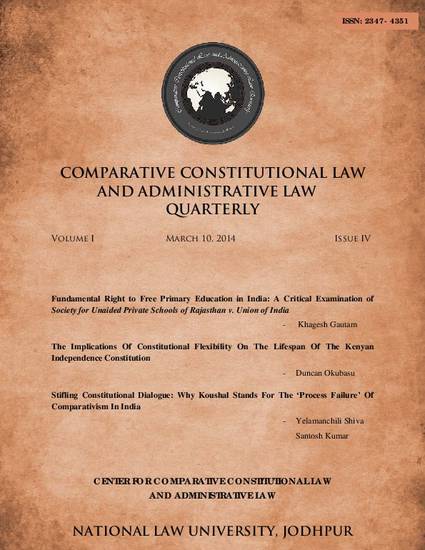 Article
FUNDAMENTAL RIGHT TO FREE PRIMARY EDUCATION IN INDIA A Critical Examination of Society for Unaided Private Schools of Rajasthan v. Union of India
Comparative Constitutional Law and Administrative Law Quarterly (2014)
Abstract
In 2002, the Constitution of India was amended and article 21A was inserted into Part III of the Constitution that provides for Fundamental Rights. Article 21A, styled as a positive right, provided for free and compulsory education to all children between the age of 6 and 14 years. To enforce this positive right, the Parliament enacted the Right of Children to Free and Compulsory Education Act of 2009. The Act, amongst other things, provided for horizontal affirmative action by reserving 25% seats in all schools (i.e. State run, State funded or Privately run) in favour of Scheduled Castes, Scheduled Tribes and Socially and Educationally Backward Classes. It also provided that the private schools cannot charge any fee, tuition or otherwise to those admitted against this 25% quota. Instead the State would reimburse the private schools for these 25% students. The constitutional validity, amongst others, of these two provisions was challenged by the private schools and in 2012, a three judge bench of the Supreme Court of India, in Society for Un-aided Private Schools of Rajasthan v. Union of India[1] upheld the constitutional validity of the 2009 Act.
This article critically analyses the majority opinion and the dissenting opinion in this case and argues that these two provisions (i.e. the Reservation Provision and the Reimbursement Provision) are constitutionally valid but not for the reasons provided by the majority opinion. This article highlights, what the author believes to be, are errors in constitutional reasoning in the majority opinion and provides alternate constitutional arguments which lead to the same result. The roots of the idea of the Reimbursement Provision are traced in the doctrine of the Court to a eleven judge bench decision in the TMA Pai[2] decision. These errors in Court's reasoning, it is argued, resulted in missed opportunity to articulate a new standard of review to review positive rights cases in this case.

[1] AIR 2012 SC 3445
[2] TMA Pai v. State of Karnataka, (2002) 8 SCC 481
Keywords
Right to Education,
Supreme Court of India,
Constitution of India,
Positive Rights,
Article 21A,
Free Primary Education
Publication Date
Spring March 10, 2014
Citation Information
Khagesh Gautam. "FUNDAMENTAL RIGHT TO FREE PRIMARY EDUCATION IN INDIA A Critical Examination of Society for Unaided Private Schools of Rajasthan v. Union of India"
Comparative Constitutional Law and Administrative Law Quarterly
Vol. 1 Iss. 4 (2014)
Available at: http://works.bepress.com/khagesh_gautam/3/