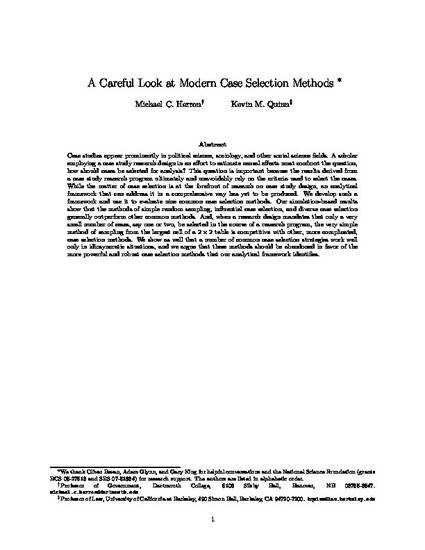 Article
A Careful Look at Modern Case Selection Methods
Sociological Methods and Research, (2015)
Abstract
Case study research is very common within political science, particularly in the study of comparative politics and international relations. One problem that case study scholars face when conducting research is determining how to select their cases. While there are a variety of case selection techniques that have been suggested within the literature on case study analysis, there is little in the way of analytical results that show when one case selection method (i.e., picking highly disparate cases that shed light on a question of interest) is better than a different method (i.e., picking two similar cases). Should cases be selected because they are thought to be confirmatory to an anticipated result? Or, because they are thought to be disconfirmatory? We explore these questions and related issues in detail within a Bayesian framework, and we able to clarify the merits of various modern case selection techniques and when each should be avoided.
Citation Information
Kevin M. Quinn and Michael Herron. "A Careful Look at Modern Case Selection Methods"
Sociological Methods and Research,
Vol. forthcoming (2015)
Available at: http://works.bepress.com/kevin_quinn/39/