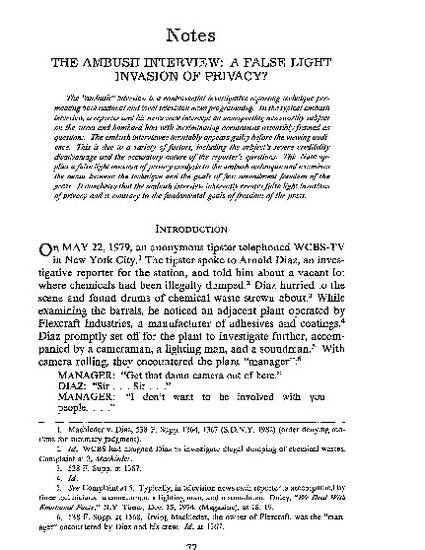 Article
The Ambush Interview: A False Light Invasion of Privacy
Case Western Reserve Law Review
Publication Date
1-1-1983
Keywords
first amendment,
freedom of the press,
journalism,
false-light invasion of privacy
Abstract
The ''ambush" interview is a controversial investigative reporting technique permeating both national and local television news programming. In the typical ambush interview, a reporter and his news crew intercept an unsuspecting newsworthy subject on the street and bombard him with incriminating accusations ostensibly framed as questions. The ambush interviewee inevitably appears guilty before the viewing audience. This is due to a variety of forces, including the subject's severe credibility disadvantage and the accusatory nature of the reporter's questions. This Note applies a false light invasion of privacy analysis to the ambush technique and examines the nexus between the technique and the goals of first amendment freedom of the press. It concludes that the ambush interview inherently creates false light invasions of privacy and is contrary to the fundamental goals of freedom of the press.
Citation Information
Kevin F. O'Neill. "The Ambush Interview: A False Light Invasion of Privacy"
Case Western Reserve Law Review
Vol. 34 Iss. 1 (1983) p. 72 - 103
Available at: http://works.bepress.com/kevin_oneill/37/