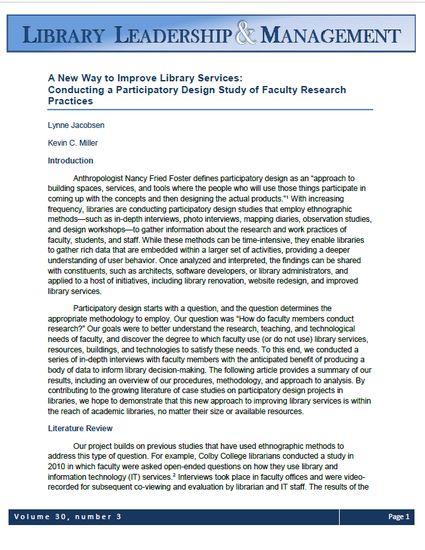 Article
A New Way to Improve Library Services--Conducting a Participatory Design Study of Faculty Research Practices
Library Leadership and Management (2016)
Abstract
Participatory design starts with a question. Based on the question, you determine which methodology to use. Our question was "How do faculty members conduct research?" We wanted to better understand the research, teaching, and technological needs of faculty. We hoped to discover how they use or don't use library services, resources, buildings, and technology. The anticipated benefits include producing a body of data to inform decision-making, and strengthening relationships with faculty.
Keywords
Libraries,
Academic libraries,
Participatory design,
Nancy Fried Foster,
In-depth interview,
Qualitative research,
Faculty,
Library services
Citation Information
Kevin C. Miller and Lynne Jacobsen. "A New Way to Improve Library Services--Conducting a Participatory Design Study of Faculty Research Practices"
Library Leadership and Management
Vol. 30 Iss. 3 (2016) ISSN: 1945-886X
Available at: http://works.bepress.com/kevin_miller/14/