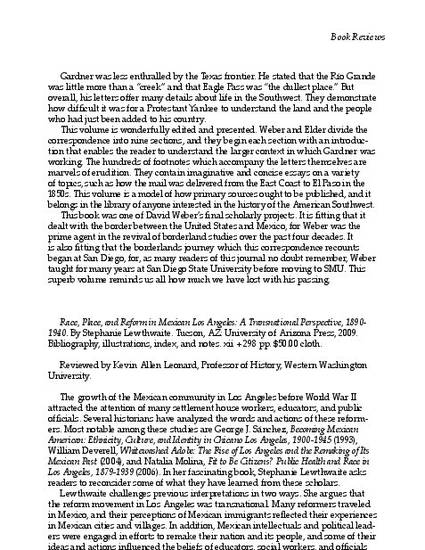 Article
Book Review - Race, Place, and Reform in Mexican Los Angeles: A Transnational Perspective, 1890-1940, by Stephanie Lewthwaite
Journal of San Diego History
Document Type
Book Review
Publication Date
10-1-2010
Abstract
The growth of the Mexican community in Los Angeles before World War II attracted the attention of many settlement house workers, educators, and public officials. Several historians have analyzed the words and actions of these reformers. Most notable among these studies are George J. Sánchez, Becoming Mexican American: Ethnicity, Culture, and Identity in Chicano Los Angeles, 1900-1945 (1993), William Deverell, Whitewashed Adobe: The Rise of Los Angeles and the Remaking of Its Mexican Past (2004), and Natalia Molina, Fit to Be Citizens? Public Health and Race in Los Angeles, 1879-1939 (2006). In her fascinating book, Stephanie Lewthwaite asks readers to reconsider some of what they have learned from these scholars.
Subjects - Topical (LCSH)
Mexican Americans--Government policy--California--Los Angeles Region--History; Mexican Americans--Cultural assimilation--California--Los Angeles Region--History; Urban renewal--California--Los Angeles Region--History
Subjects - Names (LCNAF)
Lewthwaite, Stephanie, 1975-. Race, place, and reform in Mexican Los Angeles
Geographic Coverage
Los Angeles Region (Calif.)--Social policy
Genre/Form
reviews (documents)
Citation Information
Kevin Allen Leonard. "Book Review - Race, Place, and Reform in Mexican Los Angeles: A Transnational Perspective, 1890-1940, by Stephanie Lewthwaite"
Journal of San Diego History
Vol. 56 Iss. 4 (2010) p. 261 - 262
Available at: http://works.bepress.com/kevin_leonard/33/