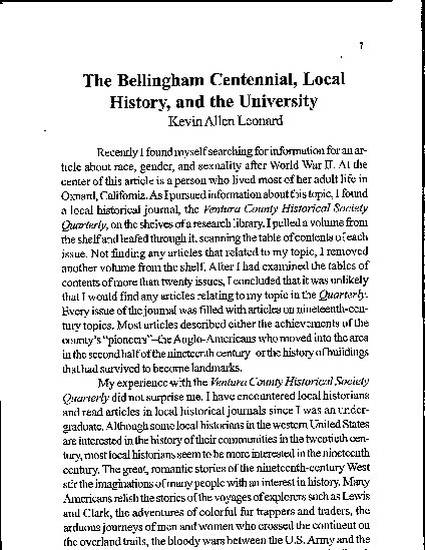 Article
The Bellingham Centennial, Local History, and the University
The Journal of the Whatcom Historical Society
Publication Date
4-1-2004
Abstract
Local and academic historians seemingly stand on two sides of a ravine. The former focus on local pioneers and old buildings. Practitioners of local history often have little formal training in the academic discipline of history. Some are not interested in the work of academic historians, because they believe too little of it relates directly to places they know and about which they care deeply. On the other side of the ravine, many academic historians look down upon local historians, usually because local historians' interests seem provincial; they rarely seem to be able to relate the landmark church or school building or the actions of a local pioneer or family member to the larger questions that preoccupy members of college and university history departments.
Citation Information
Kevin Allen Leonard. "The Bellingham Centennial, Local History, and the University"
The Journal of the Whatcom Historical Society
Vol. Special Edition Iss. Bellingham Centennial (2004) p. 7 - 23
Available at: http://works.bepress.com/kevin_leonard/11/