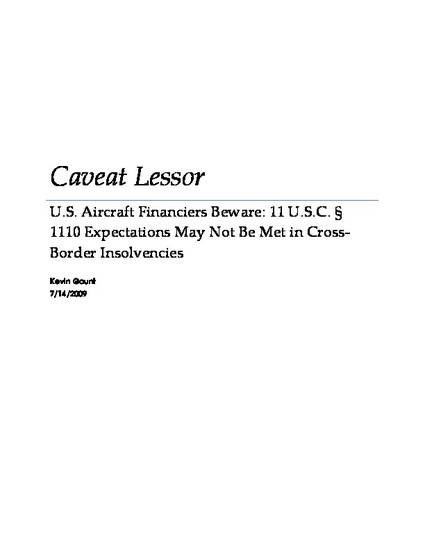 Unpublished Paper
Caveat Lessor: U.S. Aircraft Financiers Beware - 11 U.S.C. § 1110 Expectations May Not Be Met in Cross-Border Insolvencies
ExpressO (2009)
Abstract
The Viação Aérea Rio Grandense ("Varig") airline judicial recuperation in Brazil was the first major test case under the New Bankruptcy and Restructuring Law of Brazil ("the NBRL"), ratified in February of 2005 and going into effect on June 9, 2005. The experience was largely negative for aircraft and engine lessors and creditors, most of whom were United States-based and accustomed to special protections afforded them by 11 U.S.C. § 1110, which specifically provides greater protection to aircraft owners in bankruptcy procedures than other secured creditors enjoy. In the United States, an aircraft creditor may use § 1110 to circumvent the automatic stay or any injunctive power of the court to enjoin taking of possession of certain equipment unless the debtor's obligations are performed in full and all prior defaults are cured within 60 days after the order for relief. No such protections are available in a Brazilian bankruptcy proceeding. When the main proceeding was initiated in Brazil, and an ancillary proceeding was then simultaneously brought in New York under the U.S. Bankruptcy Code, the U.S.-based assets that were subject to the ancillary proceeding were conserved and administered in accordance with the NBRL.
By comparing NBRL and § 1110 protections to one another, this paper examines why the U.S. court extended comity to the Brazilian main proceeding and review the reasons why the aircraft Financiers' petitions for relief from the injunctive stay were denied in the ancillary proceeding. This paper will argue that a filing for bankruptcy by another Brazilian airline today would—in spite of (or perhaps because of) changes made to laws in both the United States and in Brazil after the Varig decision—still result in an outcome unfavorable to Financiers. With respect to the Varig case, the Court in the ancillary proceeding in New York had the opportunity to decline to extend comity to the foreign main proceedings had it concurred with the arguments advanced by the Financiers that the public policy exception "escape clause" in § 304 should provide § 1110 protections to aircraft Financiers; in extending comity to the foreign proceeding instead, a precedent was set that will likely weaken the Financiers' reliance on § 1110 in future deals with Brazilian and other foreign airlines.
Keywords
Bankruptcy,
Aviation,
Comity
Publication Date
July 14, 2009
Citation Information
Kevin Gaunt. "Caveat Lessor: U.S. Aircraft Financiers Beware - 11 U.S.C. § 1110 Expectations May Not Be Met in Cross-Border Insolvencies"
ExpressO
(2009)
Available at: http://works.bepress.com/kevin_gaunt/1/