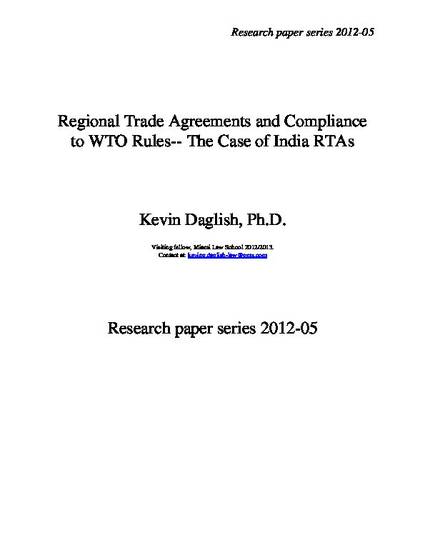 Article
Regional Trade Agreements and Compliance to WTO Rules
Stanford Journal of International Law (2012)
Abstract
The multilateral trading system existed first as the GATT from 1947 to 1994 and then as the WTO since 1995. Regional Trade Agreements ("RTAs"), defined as "a free-trade agreement, customs union or common market consisting of two or more countries" , however, began coming into their own only in the 1990s. Before that, there were virtually no such agreements until 1970 and less than 50 in 1990. This suggests that greater reduction in trade barriers (both tariff and non-tariff) was achieved in the earlier rounds of the GATT, which precluded the need for countries to resort to RTAs. Once, however, this initial thrust via the multilateral route was saturated, countries had to look at other ways of expanding their trading opportunities and this phenomenon was further propelled by the lack of substantial progress in successive Trade Rounds.
Keywords
world trade organisation,
law,
international law
Publication Date
Winter December 1, 2012
Citation Information
Kevin Dalglish P.. "Regional Trade Agreements and Compliance to WTO Rules"
Stanford Journal of International Law
Vol. 45 Iss. 2 (2012)
Available at: http://works.bepress.com/kevin_dalglish_law/1/