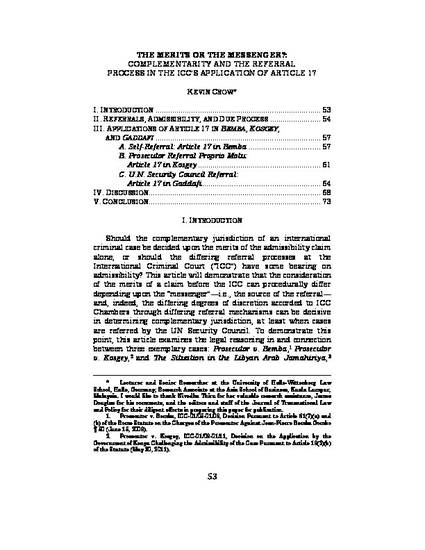 Article
The Merits or the Messenger?: Complementarity and the Referral Process in the ICC's Application of Article 17
J. Transnat'l L. & Pol'y (2017)
Abstract
Should the complementary jurisdiction of an international criminal case be decided upon the merits of the admissibility claim alone, or should the differing referral processes at the International Criminal Court ("ICC") have some bearing on admissibility? This question is important because, as this article will demonstrate, the consideration of the merits of a claim before the ICC can procedurally differ depending upon the "messenger"—i.e., the source of the referral—and, indeed, the differing degrees of discretion accorded to ICC Chambers through differing referral mechanisms can be decisive in determining complementary jurisdiction, at least when cases are referred by the UN Security Council. To demonstrate this point, this contribution examines the legal reasoning in and connection between three exemplary cases:
Prosecutor v. Bemba
,
Prosecutor v. Kosgey
, and
The Situation in the Libyan Arab Jamahiriya
, with particular attention paid to the Libyan case. Each case deals with the ICC's application of the principle of complementarity, as triggered by Article 17—i.e., the jurisdictional relationship between the ICC and the domestic courts of the countries where the alleged crimes occurred. Each case also has a different referral "messenger," and in the Libyan case, that messenger is the Security Council.
Keywords
ICC,
Rome Statute,
Article 17,
Complementarity,
Security Council
Citation Information
Kevin Crow. "The Merits or the Messenger?: Complementarity and the Referral Process in the ICC's Application of Article 17"
J. Transnat'l L. & Pol'y
Vol. 26 (2017)
Available at: http://works.bepress.com/kevin_crow/6/