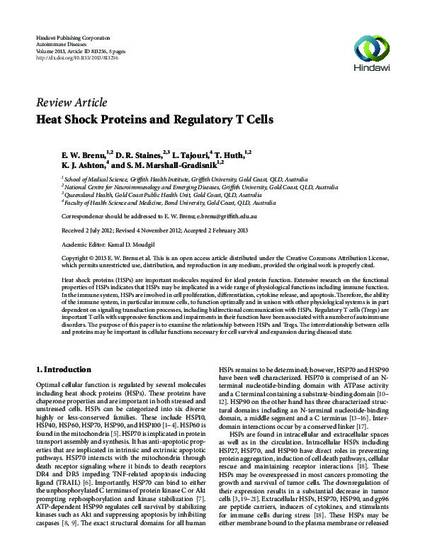 Article
Heat shock proteins and regulatory T cells
Autoimmune Diseases
Date of this Version
1-1-2013
Document Type
Journal Article
Abstract
Heat shock proteins (HSPs) are important molecules required for ideal protein function. Extensive research on the functional properties of HSPs indicates that HSPs may be implicated in a wide range of physiological functions including immune function. In the immune system, HSPs are involved in cell proliferation, differentiation, cytokine release, and apoptosis. Therefore, the ability of the immune system, in particular immune cells, to function optimally and in unison with other physiological systems is in part dependent on signaling transduction processes, including bidirectional communication with HSPs. Regulatory T cells (Tregs) are important T cells with suppressive functions and impairments in their function have been associated with a number of autoimmune disorders. The purpose of this paper is to examine the relationship between HSPs and Tregs. The interrelationship between cells and proteins may be important in cellular functions necessary for cell survival and expansion during diseased state.
Citation Information
Ekua Brenu, Don Staines, Lotti Tajouri, Teilah Huth, et al.. "Heat shock proteins and regulatory T cells"
Autoimmune Diseases
(2013) ISSN: 2090-0430
Available at: http://works.bepress.com/kevin_ashton/18/