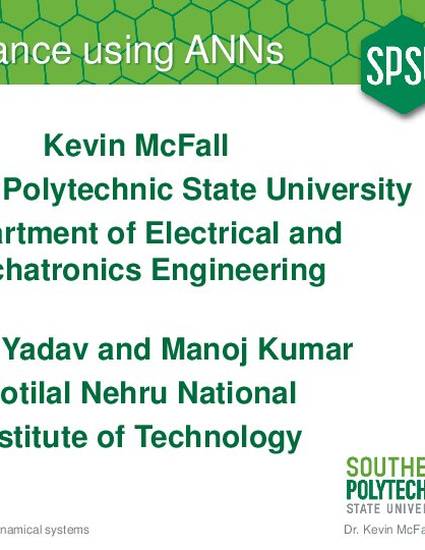 Presentation
An Artificial Neural Network Approach for the Mass Balance of aReactor in Steady State
2013 SIAM Conference on Applications of Dynamical Systems (2013)
Abstract
The conservation of mass has been an active research area in the field of chemical engineering. In this article, a mathematical model for mass balance of a chemical in a cylindrical reactor is presented and the steady state case for the mass balance of a chemical is examined by providing the numerical solution using artificial neural network technique. Numerical simulations are performed for various hidden nodes with different number of training points and initial weight parameters to show the dependence of results on the number of hidden nodes, training points and initial weights. The neural network solution is also compared with the well known finite difference method for variable step size and analytical solution shows the efficiency of neural network with higher accuracy. The main advantage of the proposed approach is that once the network is trained, it allows instantaneous evaluation of solution at any desired number of points spending negligible computing time and memory.
Publication Date
May 22, 2013
Citation Information
Kevin McFall, M. Kumar and N. Yadav. "An Artificial Neural Network Approach for the Mass Balance of aReactor in Steady State"
2013 SIAM Conference on Applications of Dynamical Systems
(2013)
Available at: http://works.bepress.com/kevin-mcfall/18/