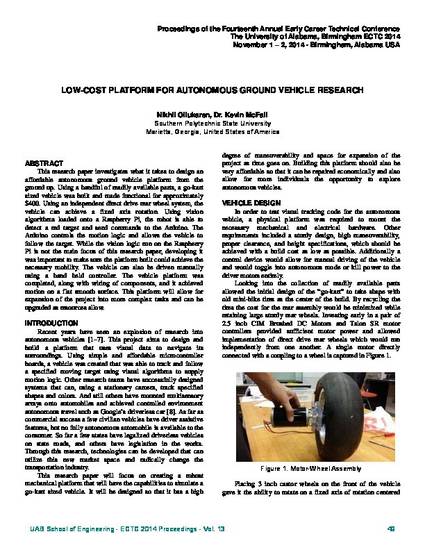 Presentation
Low-cost Platform for Autonomous Ground Vehicle Research
Proceedings ofthe 14th Early Career Technical Conference (2014)
Abstract
This research paper investigates what it takes to design an affordable autonomous ground vehicle platform from the ground up. Using a handful of readily available parts, a go-kart sized vehicle was built and made functional for approximately $400. Using an independent direct drive rear wheel system, the vehicle can achieve a fixed axis rotation. Using vision algorithms loaded onto a Raspberry Pi, the robot is able to detect a red target and send commands to the Arduino. The Arduino controls the motion logic and allows the vehicle to follow the target. While the vision logic run on the Raspberry Pi is not the main focus of this research paper, developing it was important to make sure the platform built could achieve the necessary mobility. The vehicle can also be driven manually using a hand held controller. The vehicle platform was completed, along with wiring of components, and it achieved motion on a flat smooth surface. This platform will allow for expansion of the project into more complex tasks and can be upgraded as resources allow.
Publication Date
November, 2014
Citation Information
Kevin McFall. "Low-cost Platform for Autonomous Ground Vehicle Research"
Proceedings ofthe 14th Early Career Technical Conference
(2014)
Available at: http://works.bepress.com/kevin-mcfall/16/