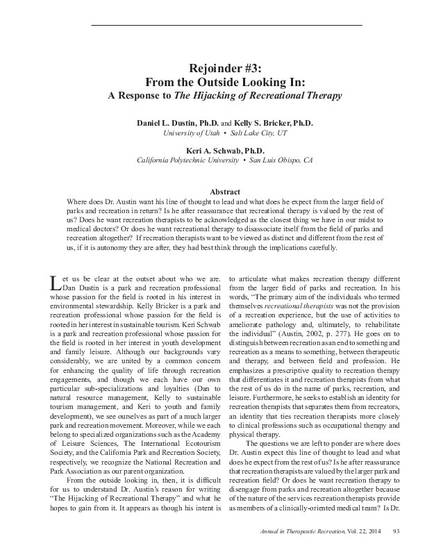 Article
From the Outside Looking In: A Response to The Hijacking of Recreational Therapy
Annual in Therapeutic Recreation (2014)
Abstract
Where does Dr. Austin want his line of thought to lead and what does he expect from the larger field of parks and recreation in return? Is he after reassurance that recreational therapy is valued by the rest of us? Does he want recreation therapists to be acknowledged as the closest thing we have in our midst to medical doctors? Or does he want recreational therapy to disassociate itself from the field of parks and recreation altogether? If recreation therapists want to be viewed as distinct and different from the rest of us, if it is autonomy they are after, they had best think through the implications carefully.
Keywords
Therapeutic Recreation,
Recreational Therapy,
parks and recreation,
leisure,
well being,
recreational therapists
Citation Information
Daniel L. Dustin, Kelly S. Bricker and Keri A. Schwab. "From the Outside Looking In: A Response to The Hijacking of Recreational Therapy"
Annual in Therapeutic Recreation
Vol. 22 (2014)
Available at: http://works.bepress.com/keschwab/24/