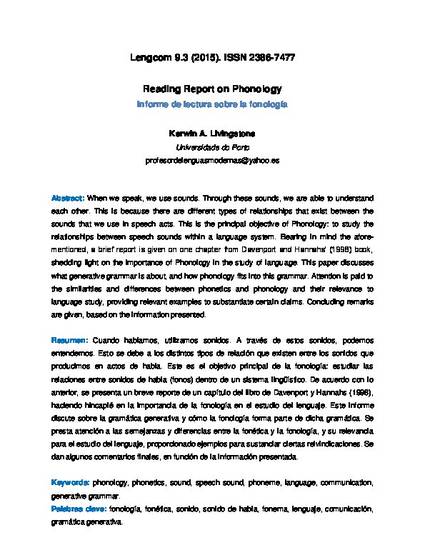 Article
Reading Report on Phonology
LENGCOM. Revista internacional científica y divulgativa de lenguaje y comunicación (2015)
Abstract
When we speak, we use sounds. Through these sounds, we are able to understand each other. This is because there are different types of relationships that exist between the sounds that we use in speech acts. This is the principal objective of Phonology: to study the relationships between speech sounds within a language system. Bearing in mind the afore-mentioned, a brief report is given on one chapter from Davenport and Hannahs' (1998) book, shedding light on the importance of Phonology in the study of language. This paper discusses what generative grammar is about, and how phonology fits into this grammar. Attention is paid to the similarities and differences between phonetics and phonology and their relevance to language study, providing relevant examples to substantiate certain claims. Concluding remarks are given, based on the information presented.
Keywords
phonology,
phonetics,
sound,
speech sound,
phoneme,
language,
communication,
generative grammar.
Publication Date
June 29, 2015
Citation Information
Kerwin A. Livingstone. "Reading Report on Phonology"
LENGCOM. Revista internacional científica y divulgativa de lenguaje y comunicación
Vol. 9 (2015)
Available at: http://works.bepress.com/kerwin_livingstone/55/