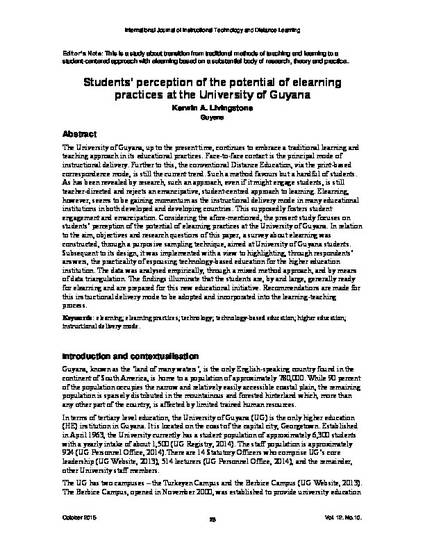 Article
Students' perception of the potential of elearning practices at the University of Guyana
International Journal of Instructional Technology and Distance Learning (ITDL) (2015)
Abstract
The University of Guyana, up to the present time, continues to embrace a traditional learning and teaching approach, in its educational practices. Face to face contact is the principal mode of instructional delivery. Further to this, the conventional Distance Education, via the print-based correspondence mode, is still the current trend. Such a method only favours but a handful of students. As has been revealed by research, such an approach, even if it might engage students, is still teacher-directed and rejects an emancipative, student-centred approach to learning. Elearning, however, seems to be gaining momentum as the instructional delivery mode, in many educational institutions in both developed and developing countries, which supposedly fosters student engagement and emancipation. Considering the afore-mentioned, the present study focuses on students' perception of the potential of elearning practices at the University of Guyana. In relation to the aim, objectives and research questions of this paper, survey about elearning was constructed, through a purposive sampling technique, aimed at University of Guyana Students. Subsequent to its design, it was implemented with a view to highlighting, through respondents' answers, the practicality of espousing technology-based education for the higher education institution. The data was analysed empirically, through a mixed method approach, and by means of data triangulation. The findings illuminate that the students are, by and large, generally ready for elearning and are prepared for this new educational initiative. Recommendations are made for this instructional delivery mode to be adopted and incorporated into the learning-teaching process.
Keywords
E-Learning; E-learning practices; technology; technology-based education; higher education; instructional delivery mode.
Publication Date
October, 2015
Citation Information
Kerwin A. Livingstone. "Students' perception of the potential of elearning practices at the University of Guyana"
International Journal of Instructional Technology and Distance Learning (ITDL)
Vol. 12 Iss. 10 (2015)
Available at: http://works.bepress.com/kerwin_livingstone/50/