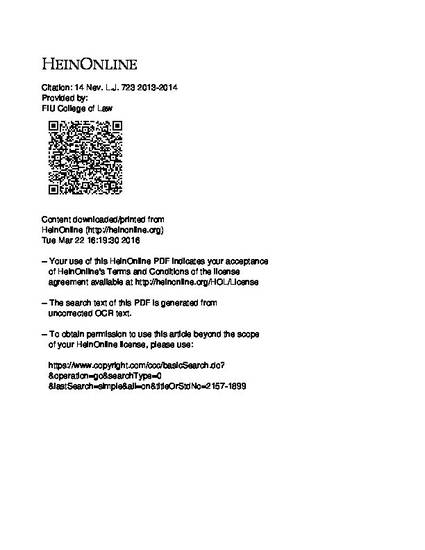 Article
Lessons from the Dolphins/Richie Incognito Saga
Nev. L.J.
Publication Date
1-1-2014
Excerpt
On the fiftieth anniversary of the passage of Title VII, scholars are observing a period of reflection and evaluation. However, it is important for us to do more than reflect upon the interpretations, doctrines, and frameworks promulgated by the courts. It is necessary to evaluate the overall efficacy of Title VII with a focus on its primary goals-the eradication of the entire spectrum of workplace discrimination motivated by sex, race, color, religion, and national origin, and the transition of the workplace into an environment that can attract and retain employees without alienating or even inadvertently winnowing them out because of their protected class status.2 The law aims to prevent overt and covert prejudices and biases, all too present in society, from bleeding into the workplace and operating to deprive others of the opportunity to earn a living and participate fully in public life.
Citation Information
Kerri Lynn Stone. "Lessons from the Dolphins/Richie Incognito Saga"
Nev. L.J.
Vol. 14 (2014) p. 723
Available at: http://works.bepress.com/kerri-stone/7/