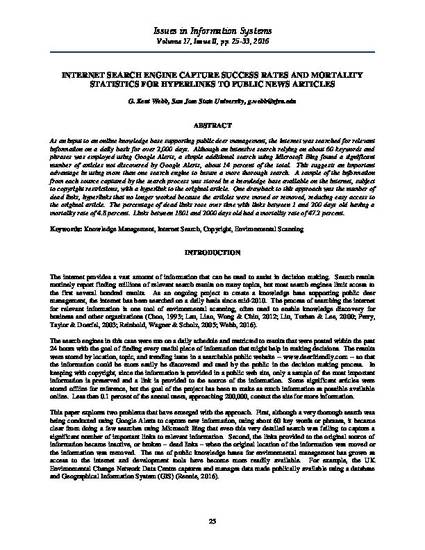 Article
INTERNET SEARCH ENGINE CAPTURE SUCCESS RATES AND MORTALITY STATISTCS FOR HYPERLINKS TO PUBLIC NEWS ARTICES
Issues in Information Systems (2016)
Abstract
As an input to an online knowledge base supporting public deer management, the internet was searched for relevant information on a daily basis for over 2,000 days. Although an intensive search relying on about 60 keywords and phrases was employed using Google Alerts, a simple additional search using Microsoft Bing found a significant number of articles not discovered by Google Alerts, about 14 percent of the total. This suggests an important advantage in using more than one search engine to insure a more thorough search. A sample of the information from each source captured by the search process was stored in a knowledge base available on the internet, subject to copyright restrictions, with a hyperlink to the original article. One drawback to this approach was the number of dead links, hyperlinks that no longer worked because the articles were moved or removed, reducing easy access to the original article. The percentage of dead links rose over time with links between 1 and 200 days old having a mortality rate of 4.8 percent. Links between 1801 and 2000 days old had a mortality rate of 47.2 percent.
Keywords
: Knowledge Management,
Internet Search,
Copyright,
Environmental Scanning
Citation Information
G. Kent Webb. "INTERNET SEARCH ENGINE CAPTURE SUCCESS RATES AND MORTALITY STATISTCS FOR HYPERLINKS TO PUBLIC NEWS ARTICES"
Issues in Information Systems
Vol. 17 Iss. 2 (2016) p. 25 - 33
Available at: http://works.bepress.com/kent_webb/32/
Creative Commons license
This work is licensed under a Creative Commons CC_BY International License.