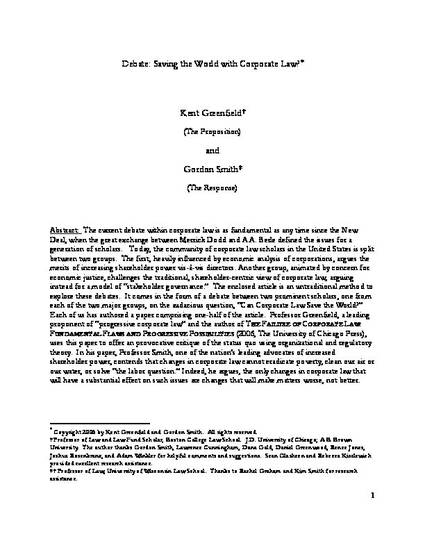 Article
Debate: Saving the World with Corporate Law?
Emory Law Journal
Publication Date
4-3-2007
Abstract
The current debate within corporate law is as fundamental as any time since the New Deal, when the great exchange between Merrick Dodd and A.A. Berle defined the issues for a generation of scholars. Today, the community of corporate law scholars in the United States is split between two groups. The first, heavily influenced by economic analysis of corporations, argues the merits of increasing shareholder power vis-à-vis directors. Another group, animated by concern for economic justice, challenges the traditional, shareholder-centric view of corporate law, arguing instead for a model of "stakeholder governance." The enclosed article is an untraditional method to explore these debates. It comes in the form of a debate between two prominent scholars, one from each of the two major groups, on the audacious question, "Can Corporate Law Save the World?" Each of us has authored a paper comprising one-half of the article. Professor Greenfield, a leading proponent of "progressive corporate law" and the author of THE FAILURE OF CORPORATE LAW: FUNDAMENTAL FLAWS AND PROGRESSIVE POSSIBILITIES (2006, The University of Chicago Press), uses this paper to offer an provocative critique of the status quo using organizational and regulatory theory. In his paper, Professor Smith, one of the nation's leading advocates of increased shareholder power, contends that changes in corporate law cannot eradicate poverty, clean our air or our water, or solve "the labor question." Indeed, he argues, the only changes in corporate law that will have a substantial effect on such issues are changes that will make matters worse, not better.
Citation Information
Kent Greenfield and D. Gordon Smith. "Debate: Saving the World with Corporate Law?"
Emory Law Journal
Vol. 57 (2007) p. 947 - 984
Available at: http://works.bepress.com/kent_greenfield/12/