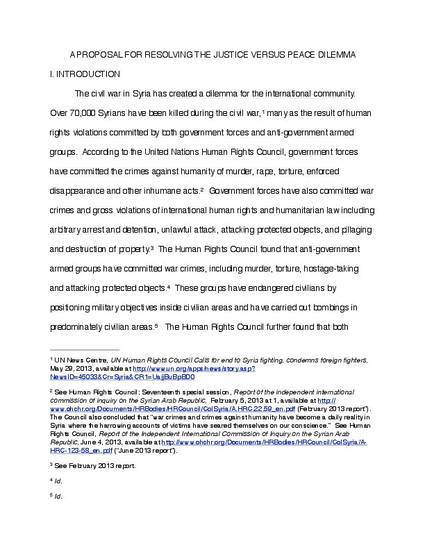 Unpublished Paper
A PROPOSAL FOR RESOLVING THE JUSTICE VERSUS PEACE DILEMMA
ExpressO (2013)
Abstract
Those who commit human rights violations have historically not been held accountable for their actions. That is no longer the case. The modern trend is to prosecute individuals who commit human rights atrocities. As the United Nations Secretary General has noted, international law has evolved from an "old era of impunity" to a "new age of accountability." Most international scholars would support this trend. However, the prospect of criminal prosecution may cause human rights violators to be more reluctant to give up power and agree to any peaceful resolution of a conflict. This article makes the case that a one size fits all aproach may actually make it more difficult in some instances to achieve peace. Therefore, a more flexible approach is required. This article suggests that in some circumstances, the international community should be able to forgo prosecutions of human rights violators if the U.N Security Council determines that the prospect of criminal prosecution may hinder the peaceful resoluton of a conflict. This article proposes that the Security Council be given the authority to grant amnesty to human rights violators if it decides that is what is necessary in order to restore international peace and security.
Keywords
human rights violators; criminal accountability; justice; peace
Publication Date
August 28, 2013
Citation Information
Kenneth Williams. "A PROPOSAL FOR RESOLVING THE JUSTICE VERSUS PEACE DILEMMA"
ExpressO
(2013)
Available at: http://works.bepress.com/kenneth_williams/2/