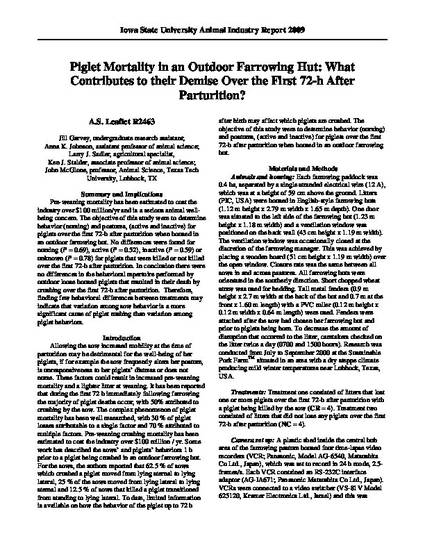 Unpublished Paper
Piglet Mortality in an Outdoor Farrowing Hut: What Contributes to their Demise Over the First 72-h After Parturition?
Animal Industry Report
Extension Number
ASL R2463
Summary and Implications
Pre-weaning mortality has been estimated to cost the industry over $100 million/yr and is a serious animal wellbeing concern. The objective of this study were to determine behavior (nursing) and postures, (active and inactive) for piglets over the first 72-h after parturition when housed in an outdoor farrowing hut. No differences were found for nursing (P = 0.69), active (P = 0.52), inactive (P = 0.59) or unknown (P = 0.78) for piglets that were killed or not killed over the first 72-h after parturition. In conclusion there were no differences in the behavioral repertoire performed by outdoor loose housed piglets that resulted in their death by crushing over the first 72-h after parturition. Therefore, finding few behavioral differences between treatments may indicate that variation among sow behavior is a more significant cause of piglet rushing than variation among piglet behaviors.
Copyright Holder
Iowa State University
Citation Information
Jill Garvey, Anna K. Johnson, Larry J. Sadler, Kenneth J. Stalder, et al.. "Piglet Mortality in an Outdoor Farrowing Hut: What Contributes to their Demise Over the First 72-h After Parturition?" (2009)
Available at: http://works.bepress.com/kenneth_stalder/13/