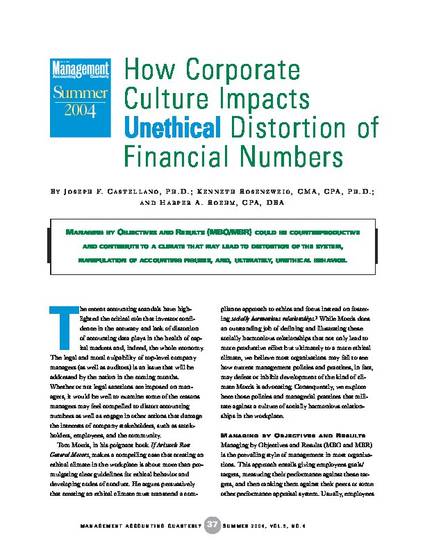 Article
How Corporate Culture Impacts Unethical Distortion of Financial Numbers
Management Accounting Quarterly
Publication Date
7-1-2004
Abstract
The recent accounting scandals have highlighted the critical role that investor confidence in the accuracy and lack of distortion of accounting data plays in the health of capital markets and, indeed, the whole economy. The legal and moral culpability of top-level company managers (as well as auditors) is an issue that will be addressed by the nation in the coming months. Whether or not legal sanctions are imposed on managers, it would be well to examine some of the reasons managers may feel compelled to distort accounting numbers as well as engage in other actions that damage the interests of company stakeholders, such as stockholders, employees, and the community.
Tom Morris, in his poignant book If Aristotle Ran General Motors, makes a compelling case that creating an ethical climate in the workplace is about more than promulgating clear guidelines for ethical behavior and developing codes of conduct. He argues persuasively that creating an ethical climate must transcend a compliance approach to ethics and focus instead on fostering socially harmonious relationships. While Morris does an outstanding job of defining and illustrating these socially harmonious relationships that lead not only to more productive effort but ultimately to a more ethical climate, we believe most organizations may fail to see how current management policies and practices, in fact, may defeat or inhibit development of the kind of climate Morris is advocating. Consequently, we explore here those policies and managerial practices that militate against a culture of socially harmonious relationships in the workplace.
Document Version
Published Version
Copyright
Copyright © 2004, Institute of Management Accountants.
Publisher
Institute of Management Accountants
Sponsoring Agency
Institute of Management Accountants
Citation Information
Joseph F. Castellano, Kenneth Y. Rosenzweig and Harper A. Roehm. "How Corporate Culture Impacts Unethical Distortion of Financial Numbers"
Management Accounting Quarterly
Vol. 5 Iss. 4 (2004)
Available at: http://works.bepress.com/kenneth_rosenzweig/5/