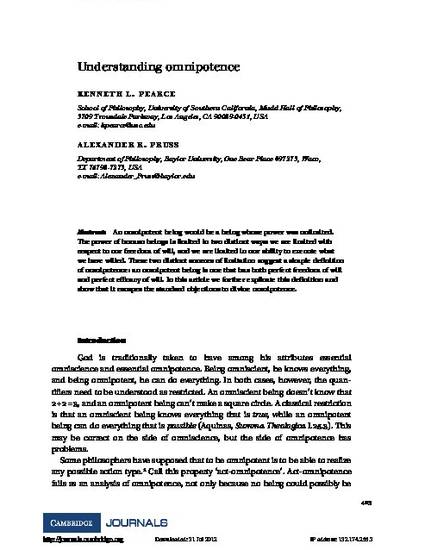 Article
Understanding Omnipotence
Religious Studies (2012)
Abstract
An omnipotent being would be a being whose power was unlimited. The power of human beings is limited in two distinct ways: we are limited with respect to our freedom of will, and we are limited in our ability to execute what we have willed. These two distinct sources of limitation suggest a simple definition of omnipotence: an omnipotent being is one that has both perfect freedom of will and perfect efficacy of will. In this paper we further explicate this definition and show that it escapes the standard objections to divine omnipotence.
Keywords
omnipotence,
power,
God,
free will
Citation Information
Kenneth L Pearce and Alexander R Pruss. "Understanding Omnipotence"
Religious Studies
Vol. 48 Iss. 3 (2012)
Available at: http://works.bepress.com/kenneth_pearce/3/