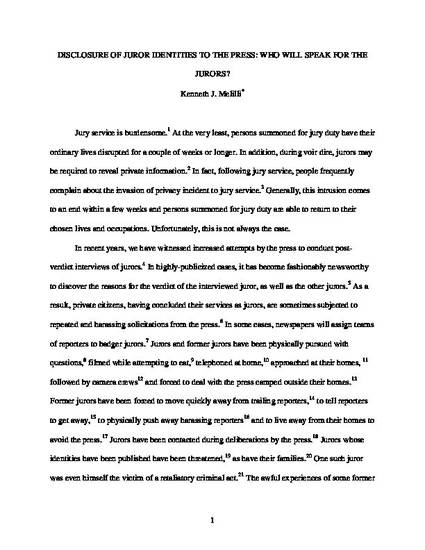 Unpublished Paper
DISCLOSURE OF JUROR IDENTITIES TO THE PRESS: WHO WILL SPEAK FOR THE JURORS?
ExpressO (2009)
Abstract
In a sequence of rulings, the United States Supreme Court has determined that the public (and hence the press) enjoys a first amendment right of access to at least portions of a criminal trial. Several lower courts have read these decisions as mandating that the press be provided, upon application, with the names and addresses of jurors or even potential jurors. Once acquired, this information has been used to harass unwilling jurors in attempts to delve into jury deliberations. In almost every such case, the only real party in interest in opposition to the application of the press -- the jurors themselves -- have been given no opportunity to oppose the motion. In several such cases, prior requests by jurors to maintain their privacy have been ignored, and in some cases prior promises by courts to jurors that their names and addresses would not be revealed have been disregarded. In essence, these cases have created a system in which the government (the courts) facilitate the harassment of private citizens (jurors) by other private citizens (the press). This article explains why the first amendment right of access cases require no such conclusion. It proposes that, in highly-publicized cases, jurors be given the option of having their names and addresses withheld from the press (but not the option of remaining anonymous regarding the parties and their counsel). Such a proposal would provide the public and the press with full access to willing jurors, but would prevent harassment of unwilling jurors. Such a scheme would promote willingness to perform the duties of jurors and full disclosure in voir dire. Most importantly, only this rule is consistent with the duty a government should owe to its citizens who sacrifice to serve as jurors.
Publication Date
September 1, 2009
Citation Information
Kenneth J. Melilli. "DISCLOSURE OF JUROR IDENTITIES TO THE PRESS: WHO WILL SPEAK FOR THE JURORS?"
ExpressO
(2009)
Available at: http://works.bepress.com/kenneth_melilli/3/