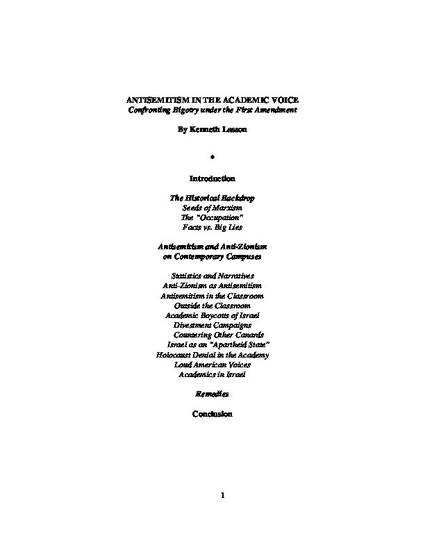 Unpublished Paper
Antisemitism in the Academic Voice: Confronting Bigotry under the First Amendment
ExpressO (2010)
Abstract
Among the abuses of the academic enterprise that have been taking place in American universities over the past several decades, and continue to this day, are failures of intellectual rigor: the abandonment of reliance on facts, common sense, and logic in the pursuit of narrow political agendas – which all too often presented in the academic voice. Students today increasingly find themselves confronted by curricula manipulated by scholarly extremists. While the number of overt antisemitic incidents has declined markedly in the United States over the past few years, there has been a significant increase in anti-Zionist rhetoric and activity on campuses around the country. The two concepts are not always identical, but in today's world they are often confluent. Antisemitism is not just name-calling, but something much more corrosive and damaging. Responses to hate speech or disruptive behavior must be firm, immediate, and consequential. This article examines the relationship between antisemitic and anti-Zionist speech and conduct, how they both play out on contemporary university campuses – and suggests ways by which such rhetoric and conduct can be Constitutionally confronted.
Publication Date
September 2, 2010
Citation Information
Kenneth Lasson. "Antisemitism in the Academic Voice: Confronting Bigotry under the First Amendment"
ExpressO
(2010)
Available at: http://works.bepress.com/kenneth_lasson/6/