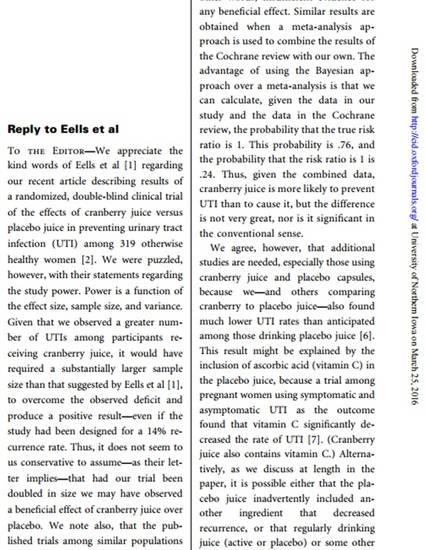 Article
Reply to Eells et al. Daily Cranberry Prophylaxis to Prevent Recurrent Urinary Tract Infections May Be Beneficial in Some Populations of Women
Clinical Infectious Diseases (2011)
Abstract
To the Editor—We appreciate the kind words of Eells et al [1] regarding our recent article describing results of a randomized, double-blind clinical trial of the effects of cranberry juice versus placebo juice in preventing urinary tract infection (UTI) among 319 otherwise healthy women [2]. We were puzzled, however, with their statements regarding the study power. Power is a function of the effect size, sample size, and variance. Given that we observed a greater number of UTIs among participants receiving cranberry juice, it would have required a substantially larger sample size than that suggested by Eells et al [1], to overcome the observed deficit and produce a positive result—even if the study had been designed for a 14% recurrence rate. Thus, it does not seem to us conservative to assume—as their letter implies—that had our trial been doubled in size we may have observed a beneficial effect of cranberry juice over placebo. We note also, that the published trials among similar populations [3, 4] had sample sizes that were less than half of that of our trial.
Citation Information
Betsy Foxman, Kenneth J. Elgersma, Ai Wen, Miatta Buxton, et al.. "Reply to Eells et al. Daily Cranberry Prophylaxis to Prevent Recurrent Urinary Tract Infections May Be Beneficial in Some Populations of Women"
Clinical Infectious Diseases
Vol. 52 Iss. 11 (2011) p. 1394 - 1395
Available at: http://works.bepress.com/kenneth_elgersma/5/