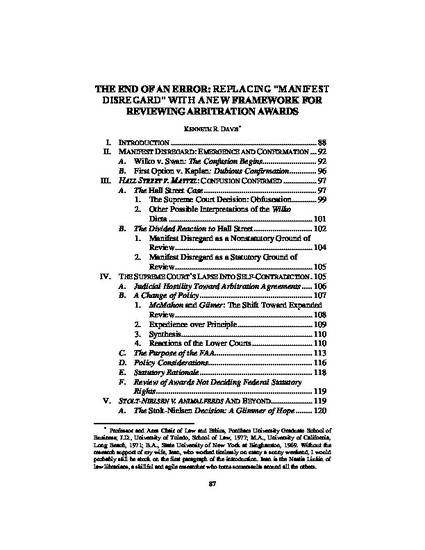 Article
The End of an Error: Replacing "Manifest Disregard" with a New Framework for Reviewing Arbitration Awards
Cleveland State Law Review (2012)
Abstract
Abstract For over fifty years, the Supreme Court has declined to establish a standard of review for errors of law in arbitration awards. Decided in 1953, Wilko v. Swan confused the courts with a cryptic statement suggesting that a court could not vacate an award for errors "in the interpretations of the law by arbitrators" unless the arbitrator manifestly disregarded the law. Despite this statement's ambiguity, the federal courts recognized the "manifest disregard" standard, which the courts interpreted to permit vacatur when the arbitrator knew the law and deliberately flouted it. Thirty-four years after Wilko, the Supreme Court in McMahon v. Shearson/Lehman suggested a broader scope of review to ensure that the requirements of federal statutory law were enforced. Nevertheless, the federal judiciary continued to apply the manifest disregard standard as if the high Court had never decided McMahon. In 2008, the Hall Street Associates v. Mattel decision heightened the confusion by offering several alternative interpretations of the dicta in Wilko, scrambling words like eggs in a skillet. The confusion intensified in 2010, when the Supreme Court in Stolt-Nielsen v. AnimalFeeds International seemed to apply de novo review to an arbitration award. Then, inexplicably, only one year later, the high Court, in AT&T Mobility v. Concepcion, suggested that it viewed the manifest disregard standard with disfavor. This melee of contradictory decisions creates the need and opportunity to reconsider what the scope of judicial review of arbitral awards should be. That discussion should take into account the purposes of the FAA, its legislative history, and the current role of arbitration as a popular method of dispute resolution. Based on these considerations, this Article proposes a new framework for the judicial review of arbitration awards. Awards deciding federal statutory rights such as rights prescribed in civil rights law and securities law should be reviewed for any errors of law. As Wilko and McMahon recognize, federal statutory rights require protection, even in arbitration. Similarly, courts should correct awards that violate well-defined federal public policy, particularly those that endanger public health, safety, or welfare, or condone unlawful acts. Awards that do not implicate important federal policy may be subject to review by state courts, but they should not be reviewed for errors of law or even manifest disregard of the law by the federal courts.
Keywords
Arbitration,
Manifest Disregard
Publication Date
July, 2012
Citation Information
Kenneth R. Davis. "The End of an Error: Replacing "Manifest Disregard" with a New Framework for Reviewing Arbitration Awards"
Cleveland State Law Review
Vol. 60 (2012)
Available at: http://works.bepress.com/kenneth_davis/9/