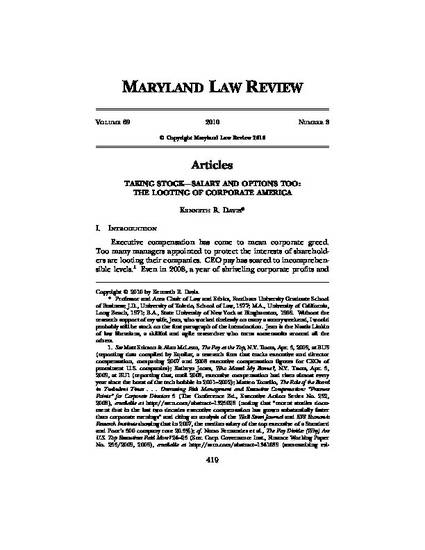 Article
Taking Stock -- Salary and Options Too: The Looting of Corporate America
Maryland Law Review (2010)
Abstract
Abstract "Taking Stock – Salary and Options Too: The Looting of Corporate America" Executive compensation has come to mean corporate greed. CEO pay has soared to incomprehensible levels. Even during the current financial crisis, more CEOs saw pay increases than cuts. Public resentment to multi-million dollar paychecks swelled to outrage when AIG and Merrill Lynch used bailout funds to dispense enormous bonuses to executives. The looting of America's corporations has led to numerous strategies to curb executive compensation. These strategies include heightened corporate disclosure requirements, tax incentives, say-on-pay, and shareholder input into the process for nominating directors. All these strategies have failed and will continue to fail to control executive pay because they do not grapple with the problem directly. This Article proposes a framework that will enable corporations to pass bylaws to establish Shareholder Compensation Committees. Such Committees would have the authority to review, and , if appropriate, to make counterproposals to the recommendations of the director compensation committee for compensation packages for the CEO, CFO, three next most highly paid executives, and the chairperson of the board. Both sets of proposals would appear on the company's proxy materials. Shareholders would have a binding vote to decide between the competing proposals. This approach would prevent directors from supporting the greed of executives rather than the interests of the corporations they ostensibly serve. It would vest the decision to set pay levels where it belongs – with shareholders.
Keywords
executive compensation; corporate governance
Publication Date
Summer June 1, 2010
Citation Information
Kenneth R. Davis. "Taking Stock -- Salary and Options Too: The Looting of Corporate America"
Maryland Law Review
Vol. 69 Iss. 3 (2010)
Available at: http://works.bepress.com/kenneth_davis/8/