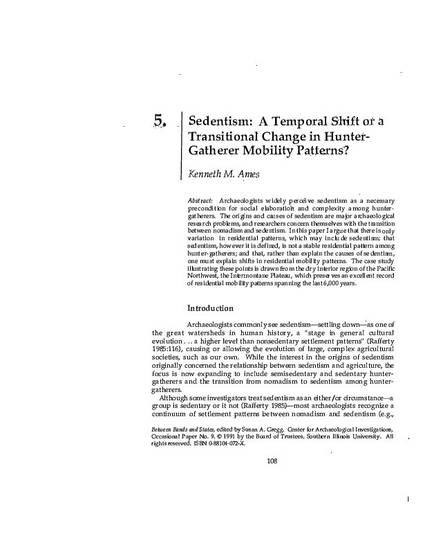 Article
Sedentism: a Temporal Shift or a Transitional Change in Hunter-Gatherer Mobility Patterns?
Between Bands and States. Center for Archaeological Investigations Occasional Paper No. 9
Publication Date
1-1-1991
Subjects
Prehistoric hunting and gathering societies -- Indians of North America -- Pacific Northwest,
Land settlement patterns -- Prehistoric -- Pacific Northwest,
Archaeology and history -- Pacific Northwest,
Geographic mobility,
Indians of North America -- Pacific Northwest -- Social life and customs
Abstract
Archaeologists widely perceive sedentism as a necessary precondition for social elaboration and complexity among hunter-gatherers. The origins and causes of sedentism are major archaeological research problems, and researchers concern themselves with the transition between nomadism and sedentism. In this paper I argue that there is only variation in residential patterns, which may include sedentism; that sedentism, however it is defined, is not a stable residential pattern among hunter-gatherers; and that, rather than explain the causes of sedentism, one must explain shifts in residential mobility patterns. The case study illustrating these points is drawn from the dry interior region of the Pacific Northwest, the Intermontane Plateau, which preserves an excellent record of residential mobility patterns spanning the last 6,000 years.
Persistent Identifier
http://archives.pdx.edu/ds/psu/12641
Citation Information
Ames, K. M. (1991). Sedentism: A temporal shift or a transitional change in hunter-gatherer mobility patterns. Between bands and states, (9), 108.