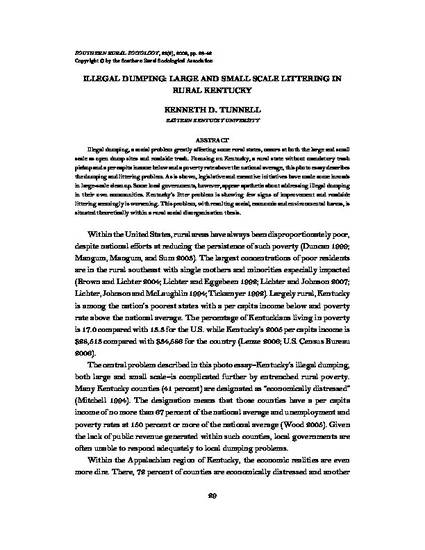 Article
Illegal Dumping: Large and Small Scale Littering in Rural Kentucky
Southern Rural Sociology (2008)
Abstract
Illegal dumping, a social problem greatly affecting some rural states, occurs at both the large and small scale as open dump sites and roadside trash. Focusing on Kentucky, a rural state without mandatory trash pickup and a per capita income below and a poverty rate above the national average, this photo essay describes the dumping and littering problem. As is shown, legislative and executive initiatives have made some inroads in large-scale clean up. Some local governments, however, appear apathetic about addressing illegal dumping in their own communities. Kentucky's litter problem is showing few signs of improvement and roadside littering seemingly is worsening. This problem, with resulting social, economic and environmental harms, is situated theoretically within a rural social disorganization thesis.
Keywords
garbage Kentucky,
illegal dumping poverty,
illegal dumping Kentucky
Citation Information
Kenneth D. Tunnell. "Illegal Dumping: Large and Small Scale Littering in Rural Kentucky"
Southern Rural Sociology
Vol. 23 Iss. 2 (2008)
Available at: http://works.bepress.com/ken_tunnell/15/