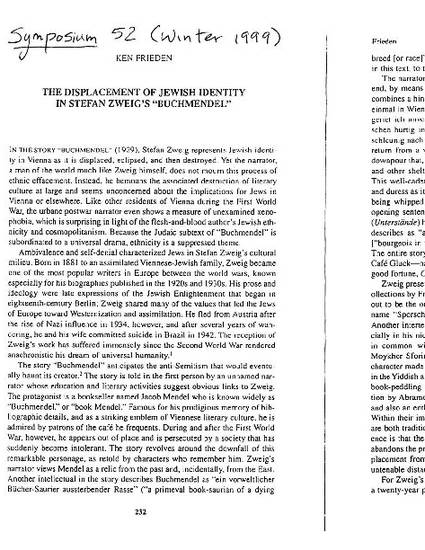 Presentation
The Displacement of Jewish Identity in Stefan Zweig's "Buchmendel"
Religion
Keywords
Judaic Studies,
Vienna,
Stefan Zweig
Description/Abstract
IN THE STORY "BUCHMENDEL" ( 1929), Stefan Zweig represents Jewish identityin Vienna as it is displaced. eclipsed, and then destroyed. Yet the narrator.a man of the world much like Zweig himself. does not mourn this process ofethnic effacement. Instead, he bemoans the associated destruction of literaryculture at !arge and seems unconcerned about the implications for Jews inVienna or elsewhere. Like other residents of Vienna during the First WorldWar, the urbane postwar narrator even shows a measure of unexamined xenophobia, which is surprising in light of the nesh-and-blood author's Jewish ethnicity and cosmopolitanism. Because the Judaic subtext of "Buchmendel" issubordinated to a universal drama, ethnicity is a suppressed theme.
Citation Information
Ken Frieden. "The Displacement of Jewish Identity in Stefan Zweig's "Buchmendel"" (1999)
Available at: http://works.bepress.com/ken_frieden/21/
Creative Commons License
Creative Commons Attribution 3.0