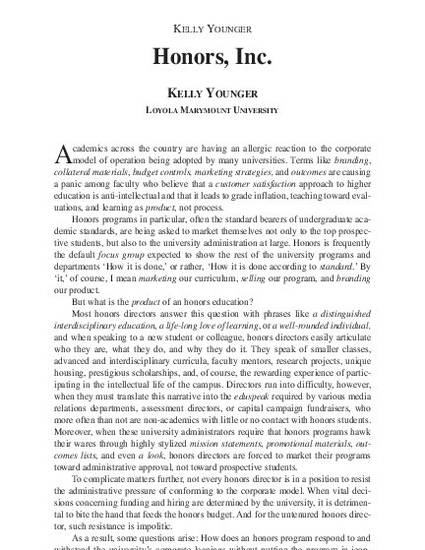 Other
Honors, Inc.
Journal of the National Collegiate Honors Council --Online Archive
Date of this Version
4-1-2004
Abstract
Academics across the country are having an allergic reaction to the corporate model of operation being adopted by many universities. Terms like branding, collateral materials, budget controls, marketing strategies, and outcomes are causing a panic among faculty who believe that a customer satisfaction approach to higher education is anti-intellectual and that it leads to grade inflation, teaching toward evaluations, and learning as product, not process. Honors programs in particular, often the standard bearers of undergraduate academic standards, are being asked to market themselves not only to the top prospective students, but also to the university administration at large. Honors is frequently the default focus group expected to show the rest of the university programs and departments 'How it is done,' or rather, 'How it is done according to standard.' By 'it,' of course, I mean marketing our curriculum, selling our program, and branding our product.
Citation Information
Kelly Younger. "Honors, Inc." (2004)
Available at: http://works.bepress.com/kelly_younger/2/