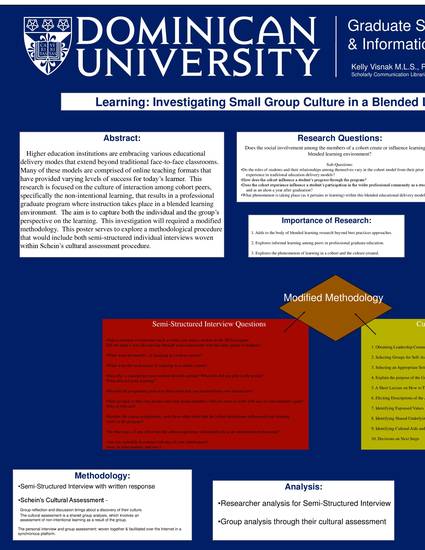 Unpublished Paper
Learning: Investigating Small Group Culture in a Blended Learning Environment
Association for Library and Information Science Education Conference (2012)
Abstract
Higher education institutions are embracing various educational delivery modes that extend beyond traditional face-to-face classrooms. Many of these models are comprised of a hybrid of online teaching formats that have found various levels of success for today's learner. This research is focused in the interaction among cohort peers as it pertains to blended learning in a graduate professional program. In order to ascertain the specifics about the influence of the cohort experience on learning this research won't be looking at assessing student learning outcomes as might be demonstrated in capstone portfolios, course grades, or exams. Such assessment is designed to determine if students have learned the competencies of an academic program. This research, instead, will be looking at the informal learning that occurs within the dynamics of the cohort and because of the cohort. As a result, it will make sense to conduct interviews, to better understand how the cohort experience might reflect aspects or characteristics of informal learning among group members and the relational interactions that occur. The research question is does the social involvement among the members of a cohort create or influence learning in a blended learning environment? The Sub-Questions follow: 1. What are the strengths and weaknesses of this educational delivery model (as it pertains to learning in professional graduate education)? 2. How does the cohort influence a student's progress through the program? 3. Does the cohort experience influence a student's participation in the wider professional community as a student and as a graduate?
Publication Date
January, 2012
Citation Information
Kelly Visnak. "Learning: Investigating Small Group Culture in a Blended Learning Environment"
Association for Library and Information Science Education Conference
(2012)
Available at: http://works.bepress.com/kelly_visnak/11/