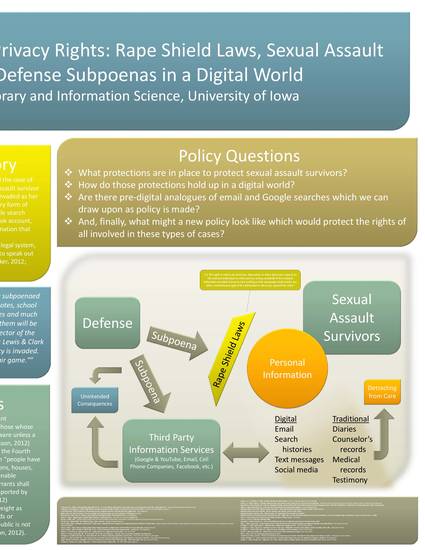 Presentation
Electronic Communication and Privacy Rights: Rape Shield Laws, Sexual Assault Survivors' Rights, and Defense Subpoenas in a Digital World
15th Annual James F. Jakobsen Graduate Conference (2013)
Abstract
As electronic communications and online information access become indispensable components of our day-to-day lives, they also begin to trigger changes in policy and produce unintended consequences from existing policies. Privacy of personal information has always been an issue in legal cases dealing with sexual assault, but in the information age, so much more information exists in a digital format, and without proper protections, provides a tempting trove of information ripe for unjust "fishing expeditions." Privacy protections for survivors of sexual violence are as important as ever in this new technological landscape. Consumer education and awareness of privacy issues should also play a large role in our near future as we grapple with these promisingly persistent issues.
Keywords
digital privacy;sexual assault;survivors' rights;digital rights;
Publication Date
April 6, 2013
Citation Information
Kelly J Thompson. "Electronic Communication and Privacy Rights: Rape Shield Laws, Sexual Assault Survivors' Rights, and Defense Subpoenas in a Digital World"
15th Annual James F. Jakobsen Graduate Conference
(2013)
Available at: http://works.bepress.com/kelly_thompson/8/