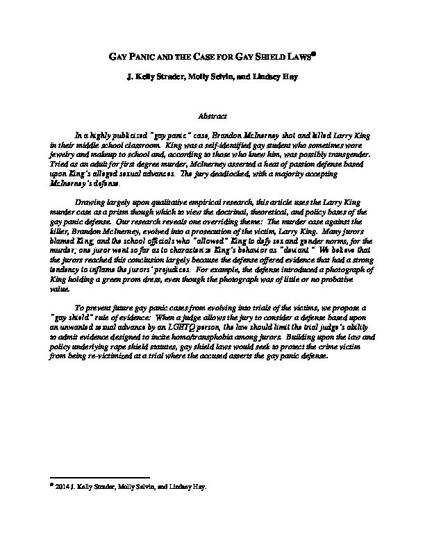 Unpublished Paper
Gay Panic and the Case for Gay Shield Laws
ExpressO (2014)
Abstract
In a highly publicized "gay panic" case, Brandon McInerney shot and killed Larry King in their middle school classroom. King was a self-identified gay student who sometimes wore jewelry and makeup to school and, according to those who knew him, was possibly transgender. Tried as an adult for first-degree murder, McInerney asserted a heat of passion defense based upon King's alleged sexual advances. The jury deadlocked, with a majority accepting McInerney's defense. Drawing largely upon qualitative empirical research, this article uses the Larry King murder case as a prism though which to view the doctrinal, theoretical, and policy bases of the gay panic defense. Our research reveals one overriding theme: The murder case against the killer, Brandon McInerney, evolved into a prosecution of the victim, Larry King. Many jurors blamed King, and the school officials who "allowed" King to defy sex and gender norms, for the murder; one juror went so far as to characterize King's behavior as "deviant." We believe that the jurors reached this conclusion largely because the defense offered evidence that had a strong tendency to inflame the jurors' prejudices. For example, the defense introduced a photograph of King holding a green prom dress, even though the photograph was of little or no probative value. To prevent future gay panic cases from evolving into trials of the victims, we propose a "gay shield" rule of evidence: When a judge allows the jury to consider a defense based upon an unwanted sexual advance by an LGBTQ person, the law should limit the trial judge's ability to admit evidence designed to incite homo/transphobia among jurors. Building upon the law and policy underlying rape shield statutes, gay shield laws would seek to protect the crime victim from being re-victimized at a trial where the accused asserts the gay panic defense.
Keywords
gay panic,
gay rights,
heat of passion,
homicide
Publication Date
August 8, 2014
Citation Information
Kelly Strader, Molly Selvin and Lindsey Hay. "Gay Panic and the Case for Gay Shield Laws"
ExpressO
(2014)
Available at: http://works.bepress.com/kelly_strader/2/