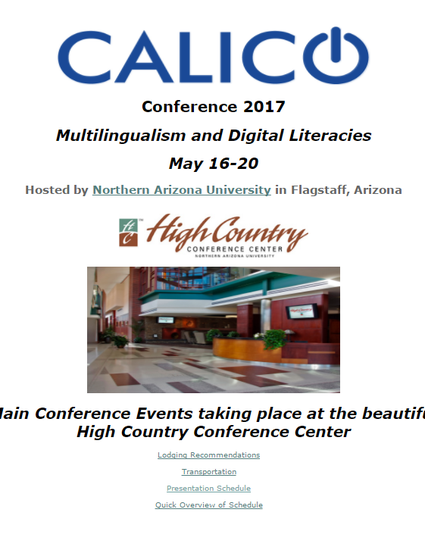 Presentation
Bridging the Gap from Intermediate to Advanced Level Foreign Language Competency in American Colleges and Universities: The Contribution of CALL
The Computer Assisted Language Instruction Consortium (CALICO) Conference 2017 (2017)
Abstract
This presentation evaluates the contribution of CALL to bridging the gap from intermediate to advanced-level foreign language competence, with particular reference to the situation in American colleges and universities. Over the past thirty-five years, though relatively few in number, attempts have been made to exploit instructional technology to teach foreign languages at advanced levels, in the US and indeed worldwide. The advanced-level second-language CALL research (AL2 CALL) stemming from these attempts forms the focus of this study. In analyzing these publications, attention is paid the alignment between student competency levels, the appropriateness of assigned task difficulty and learning outcome results.
Publication Date
May 18, 2017
Citation Information
Kelly Arispe and Jack Burston. "Bridging the Gap from Intermediate to Advanced Level Foreign Language Competency in American Colleges and Universities: The Contribution of CALL"
The Computer Assisted Language Instruction Consortium (CALICO) Conference 2017
(2017)
Available at: http://works.bepress.com/kelly_arispe/17/