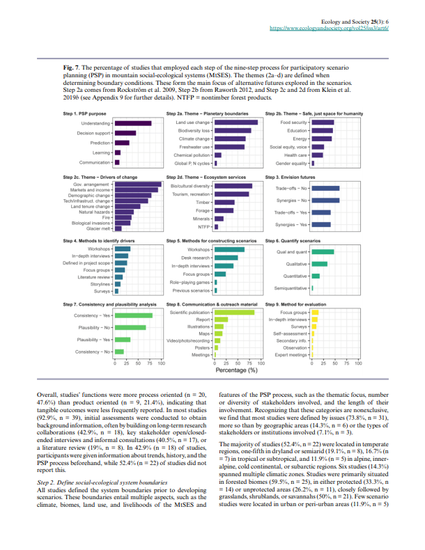 Article
A Systematic Review of Participatory Scenario Planning to Envision Mountain Social-Ecological Systems Futures
Ecology and Society
Publication Date
1-1-2020
Abstract
Mountain social-ecological systems (MtSES) provide crucial ecosystem services to over half of humanity. However, populations living in these highly varied regions are now confronted by global change. It is critical that they are able to anticipate change to strategically manage resources and avoid potential conflict. Yet, planning for sustainable, equitable transitions for the future is a daunting task, considering the range of uncertainties and the unique character of MtSES. Participatory scenario planning (PSP) can help MtSES communities by critically reflecting on a wider array of innovative pathways for adaptive transformation. Although the design of effective approaches has been widely discussed, how PSP has been employed in MtSES has yet to be examined. Here, we present the first systematic global review of single- and multiscalar, multisectoral PSP undertaken in MtSES, in which we characterize the process, identify strengths and gaps, and suggest effective ways to apply PSP in MtSES. We used a nine-step process to help guide the analysis of 42 studies from 1989 screened articles. Our results indicate a steady increase in relevant studies since 2006, with 43% published between 2015 and 2017. These studies encompass 39 countries, with over 50% in Europe. PSP in MtSES is used predominantly to build cooperation, social learning, collaboration, and decision support, yet meeting these objectives is hindered by insufficient engagement with intended end users. MtSES PSP has focused largely on envisioning themes of governance, economy, land use change, and biodiversity, but has overlooked themes such as gender equality, public health, and sanitation. There are many avenues to expand and improve PSP in MtSES: to other regions, sectors, across a greater diversity of stakeholders, and with a specific focus on MtSES paradoxes. Communicating uncertainty, monitoring and evaluating impacts, and engendering more comparative approaches can further increase the utility of PSP for addressing MtSES challenges, with lessons for other complex social-ecological systems.
Creative Commons License
Creative Commons Attribution 4.0 International
Citation Information
Thorn, Jessica P. R.; Klein, Julia A.; Steger, Cara; Hopping, Kelly A.; Capitani, Claudia; Tucker, Catherine M.; . . . and Marchant, Robert. (2020). "A Systematic Review of Participatory Scenario Planning to Envision Mountain Social-Ecological Systems Futures".
Ecology and Society, 25
(3), 6-1 - 6-55.
https://doi.org/10.5751/ES-11608-250306