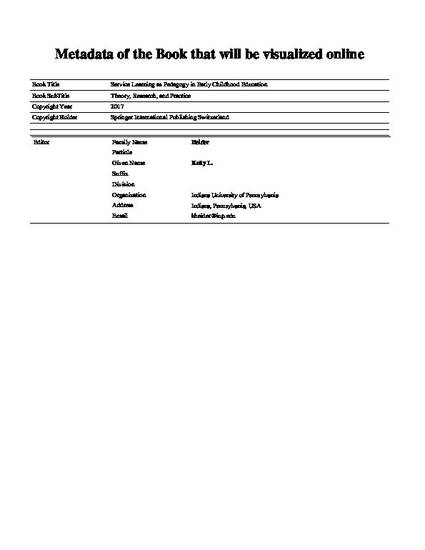 Book
Service Learning as Pedagogy in Early Childhood Education: Theory, Research, and Practice
(2017)
Abstract
This book presents the most recent theory, research, and practice on service learning as it relates to early childhood education. It describes several service learning programs, many of which were developed to better prepare pre-service teachers for the challenges they face in today's early childhood classrooms, including class size, ever-changing technology, diversity, high-stakes testing, parental involvement (or the lack thereof), and shrinking budgets. The book shares stories of positive outcomes from pre-service teachers who, having participated in service-learning programs, report a shift in their attitudes and beliefs including an increased empathy for others, a heightened sensitivity to student differences, more democratic values, and a greater commitment to teaching. In addition, the book examines the effects of service learning and positive outcomes for children and teacher educators as well.
Schools today face an increasing number of language learners, the mainstreaming of special population students, and working with a standards-driven curriculum. All of these present new challenges for teachers as they attempt to meet their students' educational needs. As a result of this new classroom environment, and the educational needs they present, teacher educators must now seek different approaches to prepare prospective teachers to meet these needs because the traditional approaches to teacher preparation, such as coursework independent of fieldwork, are no longer effective in equipping teachers to address these issues. This book examines in detail the new approach of service learning.
Keywords
service learning,
early childhood education,
teacher education
Series
Educating the Young Child
DOI
10.1007/978-3-319-42430-9
Citation Information
Heider, K. (Ed.). (2017). Service learning as pedagogy in early childhood education: Theory, research, and practice. New York: Springer.