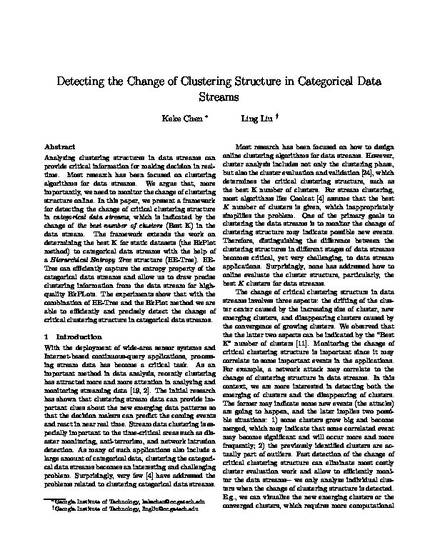 Presentation
Detecting the Change of Clustering Structure in Categorical Data Streams
Proceedings of the 2006 SIAM International Conference on Data Mining
Publication Date
4-1-2006
Abstract
Analyzing clustering structures in data streams can provide critical information for making decision in real time. In this paper, we present a framework for detecting the change of critical clustering structure in categorical data streams. The framework consists of the Hierarchical Entropy Tree structure (HE-Tree) and the extended ACE clustering algorithm. HE-Tree can efficiently capture the entropy property of the categorical data streams and allow us to draw precise clustering information from the data stream for high-quality BkPLots with the extended ACE algorithm.
DOI
10.1137/1.9781611972764.49
Citation Information
Keke Chen and Ling Liu. "Detecting the Change of Clustering Structure in Categorical Data Streams"
Proceedings of the 2006 SIAM International Conference on Data Mining
(2006) ISSN: 9780898716115
Available at: http://works.bepress.com/keke_chen/34/