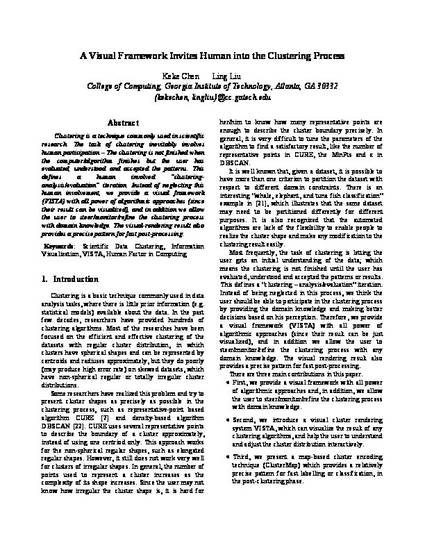 Presentation
A Visual Framework Invites Human into the Clustering Process
15th International Conference on Scientific and Statistical Database Management
Document Type
Conference Proceeding
Publication Date
7-9-2003
Abstract
Clustering is a technique commonly used in scientific research. The task of clustering inevitably involves human participation - the clustering is not finished when the computer/algorithm finishes but the user has evaluated, understood and accepted the patterns. This defines a human involved "clustering-analysis/evaluation" iteration. Instead of neglecting this human involvement, we provide a visual framework (VISTA) with all power of algorithmic approaches (since their result can be visualized), and in addition we allow the user to steer/monitor/refine the clustering process with domain knowledge. The visual-rendering result also provides a precise pattern for fast post-processing.
DOI
10.1109/SSDM.2003.1214971
Citation Information
Keke Chen and Ling Liu. "A Visual Framework Invites Human into the Clustering Process"
15th International Conference on Scientific and Statistical Database Management
(2003) p. 97 - 106 ISSN: 1099-3371
Available at: http://works.bepress.com/keke_chen/23/