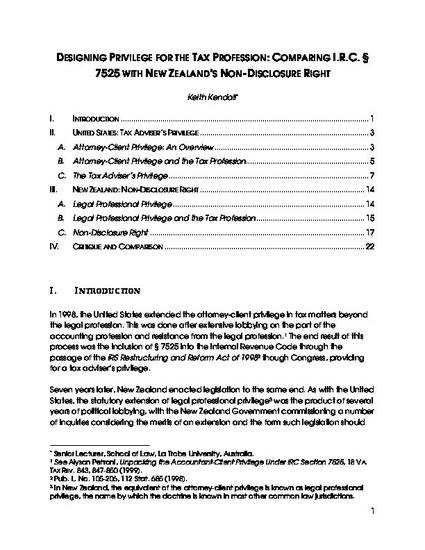 Unpublished Paper
Designing Privilege for the Tax Profession: Comparing I.R.C. § 7525 with New Zealand's Non-Disclosure Right
ExpressO (2010)
Abstract
The United States and New Zealand are the only two common law jurisdictions to have successfully extended attorney-client privilege to non-lawyer tax advisers. While aimed at the common goal of such an extension, the two statutory rules implement very different means to achieve this purpose; the United States importing the common law into statute, with New Zealand creating a completely separate statutory right. An examination of the context and legislative histories of the respective statutory provisions finds that these forms are consistent with the legislative approach to evidentiary privileges in each jurisdiction and is, therefore, appropriate in each case. Other common law jurisdictions contemplating extending privilege to the wider tax profession may use either of these provisions as a model for their own jurisdiction, the most appropriate depending on the similarity in legislative attitude to evidentiary privileges.
Keywords
tax adviser's privilege,
non-disclosure right,
statutory privilege
Publication Date
July 15, 2010
Citation Information
Keith A Kendall. "Designing Privilege for the Tax Profession: Comparing I.R.C. § 7525 with New Zealand's Non-Disclosure Right"
ExpressO
(2010)
Available at: http://works.bepress.com/keith_kendall/3/