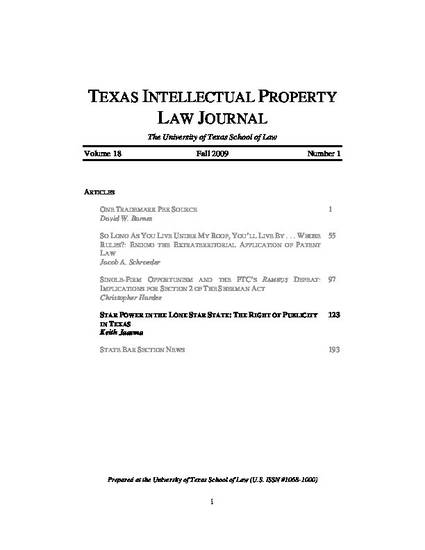 Article
Star Power in the Lone Star State: The Right of Publicity in Texas
Texas Intellectual Property Law Journal (2009)
Abstract
Since the United States Court of Appeals for the Second Circuit in 1953 in Haelan Laboratories v. Topps Chewing Gum coined the term "right of publicity" to describe the right of individuals to control the use of their name and likenesses for commercial and other valuable purposes, more than half the states in the U.S. have granted rights of publicity to individuals through either the common law or by statute. Texas has done both, establishing a right of publicity for living individuals through the common law tort of misappropriation of the name or likeness of another, and providing a right of publicity for deceased individuals under chapter 26 of the Texas Property Code.
Other states, especially California, have expanded the right of publicity to protect not only the literal names and likenesses of individuals, but also distinctive singing voices, catchphrases associated with individuals, nicknames, and other items associated with those individuals. Texas and federal courts have largely relied on these states' decisions and the Restatement of Torts in defining Texas right of publicity law. This article discusses the elements of a right of publicity claim for both living and deceased individuals under Texas law, as well as issues regarding damages and attorneys' fees, federal preemption, and sovereign immunity.
In addition to detailing the current state of Texas law, this article suggests that the right of publicity should not be extended to business entities, that courts should be flexible in considering damages claims based on right of publicity violations, and that the right of publicity for the deceased terminates on the fiftieth anniversary of that individual's death given the Texas Property Code's clear statement that names or likenesses of individuals may be used for "any purpose" fifty years after that person's death. Moreover, this article argues that courts applying Texas law should not follow the holding of the Ninth Circuit in White v. Samsung Electronics America, Inc., in which the court held that Vanna White's "identity" had been appropriated by Samsung's use of a robot with a blond wig in an advertisement featuring the "Wheel of Fortune" set, where it could not be argued reasonably that White was endorsing Samsung TVs. Lastly, this article suggests that courts should proceed with caution when analyzing whether commercial uses of photographs of the nonfamous are used for the "value" associated with their images.
Keywords
"right of publicity",
texas
Publication Date
Fall 2009
Citation Information
Keith Jaasma. "Star Power in the Lone Star State: The Right of Publicity in Texas"
Texas Intellectual Property Law Journal
Vol. 18 Iss. 1 (2009)
Available at: http://works.bepress.com/keith_jaasma/2/