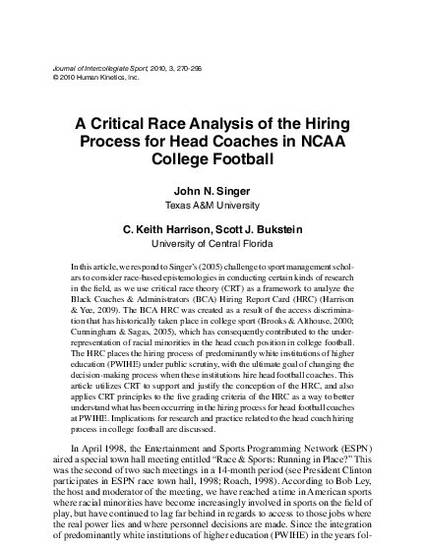 Article
A Critical Race Analysis of the Hiring Process for Head Coaches in NCAA College Football
Journal of Intercollegiate Sport (2010)
Abstract
In this article, we respond to Singer's (2005) challenge to sport management scholars to consider race-based epistemologies in conducting certain kinds of research in the field, as we use critical race theory (CRT) as a framework to analyze the Black Coaches & Administrators (BCA) Hiring Report Card (HRC) (Harrison & Yee, 2009). The BCA HRC was created as a result of the access discrimination that has historically taken place in college sport (Brooks & Althouse, 2000; Cunningham & Sagas, 2005), which has consequently contributed to the underrepresentation of racial minorities in the head coach position in college football. The HRC places the hiring process of predominantly white institutions of higher education (PWIHE) under public scrutiny, with the ultimate goal of changing the decision-making process when these institutions hire head football coaches. This article utilizes CRT to support and justify the conception of the HRC, and also applies CRT principles to the five grading criteria of the HRC as a way to better understand what has been occurring in the hiring process for head football coaches at PWIHE. Implications for research and practice related to the head coach hiring process in college football are discussed.
Citation Information
Keith Harrison. "A Critical Race Analysis of the Hiring Process for Head Coaches in NCAA College Football"
Journal of Intercollegiate Sport
Vol. 3 Iss. 2 (2010)
Available at: http://works.bepress.com/keith_harrison/20/