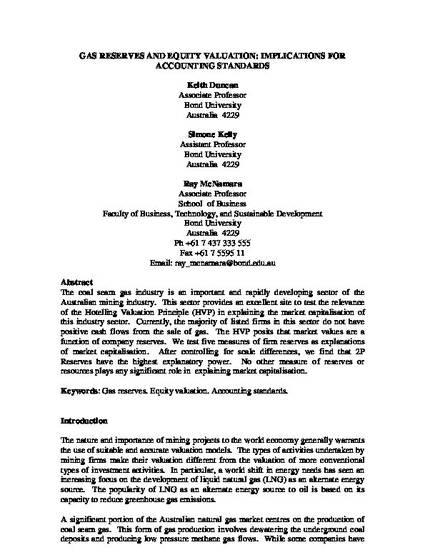 Presentation
Gas reserves and equity valuation: Implications for accounting standards
IAAER-ANPCONT 3rd international accounting congress: Accounting internationalization: Current and future trends (2009)
Abstract
The coal seam gas industry is an important and rapidly developing sector of the Australian mining industry. This sector provides an excellent site to test the relevance of the Hotelling Valuation Principle (HVP) in explaining the market capitalisation of this industry sector. Currently, the majority of listed firms in this sector do not have positive cash flows from the sale of gas. The HVP posits that market values are a function of company reserves. We test five measures of firm reserves as explanations of market capitalisation. After controlling for scale differences, we find that 2P Reserves have the highest explanatory power. No other measure of reserves or resources plays any significant role in explaining market capitalisation.
Keywords
gas reserves,
equity valuation,
accounting standards
Publication Date
June 12, 2009
Citation Information
Keith Duncan, Simone Kelly and Ray McNamara. "Gas reserves and equity valuation: Implications for accounting standards"
IAAER-ANPCONT 3rd international accounting congress: Accounting internationalization: Current and future trends
(2009)
Available at: http://works.bepress.com/keith_duncan/8/