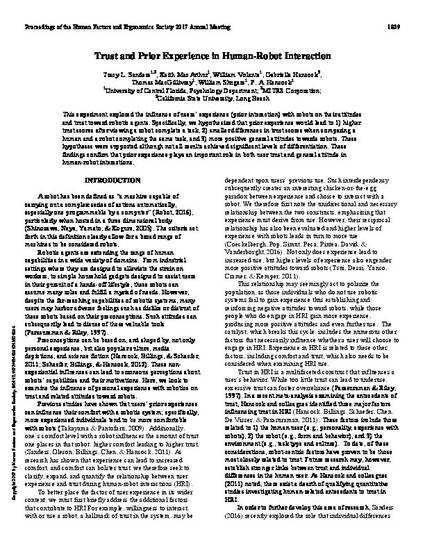 Presentation
Trust and prior experience in human-robot interaction
Presented at the 2017 annual meeting of the Human Factors and Ergonomics Society (2017)
Abstract
This experiment explored the influence of users' experience (prior interaction) with robots on their attitudes and trust toward robotic agents. Specifically, we hypothesized that prior experience would lead to 1) higher trust scores after viewing a robot complete a task, 2) smaller differences in trust scores when comparing a human and a robot completing the same task, and 3) more positive general attitudes towards robots. These hypotheses were supported although not all results achieved significant levels of differentiation. These findings confirm that prior experience plays an important role in both user trust and general attitude in human-robot interactions.
Publication Date
Fall October, 2017
Citation Information
Tracy L. Sanders, Keith R MacArthur, William Volante, Gabriella M. Hancock, et al.. "Trust and prior experience in human-robot interaction"
Presented at the 2017 annual meeting of the Human Factors and Ergonomics Society
(2017)
Available at: http://works.bepress.com/keith-r-macarthur/8/